US government nabbed $2.9m in May Bitcoin seizure
Mt. Gox's Dwolla account yielded a pretty purse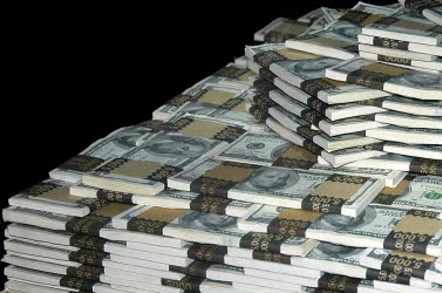 More information has come to light regarding the US government's recent seizure of funds from online accounts belonging to Mt. Gox, the world's largest Bitcoin exchange.
El Reg reported in May that the Department of Homeland Security had frozen an account with mobile payment processor Dwolla belonging to Mutum Sigillum LLC, a subsidiary of Tokyo, Japan–based Mt. Gox.
At the time, all that was known was that traders could no longer transfer funds between Bitcoin and US dollars using Dwolla as an intermediary, because all money transfers had been halted under what was described as a "seizure warrant."
On Tuesday, a Baltimore federal court filing obtained by GigaOm revealed the full extent of that seizure: $2,915,507.40 (£1,859,735.11), in all. Based on the price and available volume of Bitcoins at the time, the seizure amounted to about 0.2 per cent of all of the Bitcoins in existence.
The move was just the opening volley in what has become a mounting effort by US state and federal officials to establish clear regulatory oversight over virtual electronic currencies – something that Bitcoin and other such currencies were specifically designed to avoid.
Most recently, the US Senate ordered various federal regulatory and law enforcement agencies to explain what steps they were taking to enforce US finance laws on traders of virtual currencies, while the New York Department of Financial Services demanded the same information of companies in the Bitcoin trading industry.
In the Dwolla case, the DHS reportedly froze Mutum Sigillum's account because it allegedly opened the account without revealing to regulators that it was intended for use by a money transfer business.
Just what will happen to the $2.9m that was seized is not clear. Should Mutum Sigillum be cleared of violating US finance law, it could eventually be returned. But given that a federal judge has recently ruled that Bitcoin should be considered a form of money, that seems a tad unlikely.
More significant than the loss of funds, however, has been the impact that the seizure and similar government actions have had on Bitcoin trading in the US. Dwolla had been one of the easiest ways to get US funds in and out of Bitcoin. Shortly after the May seizure, OKPay, another payment processor, announced that it was also halting transfers to and from the virtual currency. The mounting pressure has put a strain on Mt. Gox, and it has even occasionally had to suspend trading in US dollars.
Doubtless this is not the last legal action we will see against Bitcoin businesses. But with so many different government agencies now trying to plant their stakes in the regulatory turf, it will likely be a long while to come before the dust clears and Bitcoin's legal status is fully understood. ®