Microsoft fights Google for kids' attention with ad-free Bing for Schools
Finds a use for its RT stockpile, too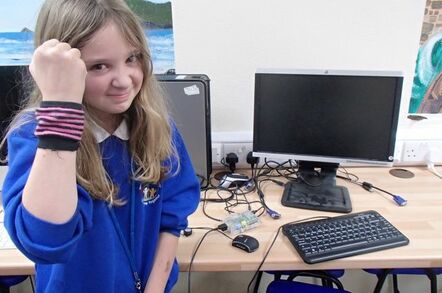 Microsoft is making a big play for the hearts and clicks of America's youth with the launch of Bing for Schools, which includes an advertising and porn-free search engine, free sponsored lesson plans, and Surface RT fondleslabs earned through a rewards program.
"We already know that search is an important tool for kids in school – a recent Pew poll found that 94% of teachers believe their students are very likely to use a search engine during a typical assignment," said Matt Wallaert, Bing behavioral scientist, in a blog post. "We believe that schools should have the choice to make sure those searches are safer, more private, and ad-free."
Under the Bing program, schools' IT admins are guaranteed no advertising for children in search results, the automatic blocking of pornography, and "enhanced privacy protections."
"Once a school is activated in the pilot, the enhanced Bing experience will automatically be served for any queries from the school's network. This was done specifically to keep the personnel overhead low for school districts," Redmond told El Reg in a statement
Microsoft is also supplying lesson plans for teachers designed to integrate Bing into lessons and "promote digital skills." A typical lesson plan designed for math students involves searching for information on oil tankers and using Bing's search bar calculator to work out how much Texas tea they can deliver to Houston.
Microsoft is also adding its expensive stockpile of Surface RT tablets to the program, by letting anyone use Bing Rewards points (which as awarded for using Microsoft search and services while logged in) to buy a fondleslab for the school of their choice. An RT unit with Touch Cover costs 30,000 reward points, which Microsoft reckons could be earned every month by 60 average users.
Getting future market share by targeting schools is nothing new – Apple has offered special discounts to schools almost since its inception. Steve Jobs well understood the claimed Jesuit adage of "Give me the child for seven years, and I will give you the man," and other companies quickly saw the attraction.
More recently, Microsoft's search rival Google has been making a major play for the in-school screen time of tomorrow's adults with its Chrome operating system. Education was one of the key markets first identified for Chrome OS, and Google is pushing hard with discounted (and pricier) Chromebooks for kids and the promise of simplified support for IT administrators.
The ad-free motif of Microsoft's Bing for Schools will also be used as a stick to beat Google with. Microsoft has been running its "Scroogled" ad campaign for years to remind people how the Chocolate Factory pays for all these free online services, and is also sponsoring legislation to keep Google Apps out of schools on the grounds that they expose children to advertising.
The Bing for Schools scheme officially starts up on September 3, but Microsoft has currently got the program out on beta to 800,000 kids in Detroit, Los Angeles, Fresno, and Atlanta. Redmond is also planning a national advertising to persuade more schools to sign up and get parents buying fondleslabs for their children. ®
Sponsored: Becoming a Pragmatic Security Leader