Hackers not responsible for New York Times website wipeout
Hours-long outage attributed to internal systems fault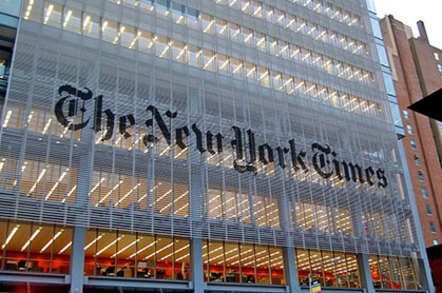 The website of The New York Times was unavailable for at least an hour on Wednesday morning, but the newspaper says the outage wasn't due to malicious attacks, as some had feared.
The NYT website first went dark around 11:30am Eastern Time and continued to display nothing but a terse "Service Unavailable" error for several hours.
When the outage first struck, staffers used the paper's Twitter account to let readers know that the problem was being addressed, but said only that the site was "experiencing technical difficulties" and that it would be back up shortly. The NYT email server was reportedly also affected.
The paper's edit staff posted details of breaking stories to the official Times Facebook feed during the downtime, an unusual move that was criticized by the anti-Zuck set.
What's more, the timing of the outage led some to speculate that it may have been the result of a deliberate attack. It coincided with several important events, most notably Egypt's bloody crackdown of protests by supporters of ousted president Mohamed Morsi.
The NYT has been the victim of hacking attacks in the past. In January it reported that its staffers' email accounts had been compromised by hackers linked to the Chinese military. On Wednesday, security research firm FireEye said the same group responsible for those attacks could be ready for more mischief.
Once the Times's website was restored late Wednesday afternoon, however, the paper's IT bods said that no outside forces were to blame for the morning's service interruption. In a message titled "To Our Customers," an anonymous staffer wrote:
As you may know, our Web site was unavailable for a period of time earlier today. The outage occurred within seconds of a scheduled maintenance update, which we believe was the cause. We are working on fully restoring service and apologize for any inconvenience.
Just which portions of the site's infrastructure still need repairs isn't clear. According to reports from around the web, the newspaper's full contents were available to readers in most regions by the time it posted the apology.
In all, it was a much shorter and less damaging outage than the Outlook and SkyDrive debacle that Microsoft suffered on Wednesday, which began in the early morning and which – as this Reg hack goes to press the big, red "Post" button – has yet to be resolved. ®
Sponsored: Beyond the Data Frontier