Bradley Manning: 'I'm sorry my actions hurt the United States'
Apologizes before court in last-ditch bid for leniency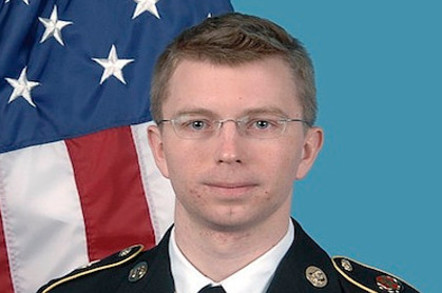 US Army Private Bradley Manning, who in July was found guilty of disclosing hundreds of thousands of classified government documents to WikiLeaks, has apologized in open court for his actions.
The New York Times reports that Manning gave a three-minute, unsworn statement before military court judge Colonel Denise Lind on Wednesday, in which he said he had come to understand the damage his actions had caused.
"I'm sorry," Manning said. "I'm sorry that my actions hurt people. I'm sorry that they hurt the United States."
Manning has had a lot of time to think about his actions and their consequences. He has spent the last three years imprisoned in various military facilities, first in Kuwait and later in the United States.
For a portion of that time, he was held in solitary confinement in a windowless six-by-12-foot cell, stripped of both his clothes and his eyeglasses. He took his meals in his cell and he was allowed to walk for only one hour each day.
A judge later ruled that this period of his detainment constituted illegal punishment and reduced any sentence he may receive by 112 days. But that's just a drop in the bucket compared to the 90-year sentence he could get, having been found guilty on 21 charges.
In a bid for leniency, Manning and David Coombs, his lawyer, told the court that Manning's personal difficulties had impaired his judgment, leading him to make poor choices.
"At the time of my decision, as you know, I was dealing with a lot of issues, issues that are ongoing and continue to affect me," Manning told the judge.
During the day's proceedings, a clinical psychologist testified that Manning had been struggling with his sexual identity in the months before his arrest, at a time when being openly gay was against US military law.
Another headshrinker described Manning's difficult childhood living with his alcoholic mother, and said that he exhibited some negative personality traits associated with fetal alcohol syndrome and Asperger's syndrome.
Despite these accounts, Manning said that he did not expect the court to accept his personal and emotional problems as a defense for what he did.
"Although a considerable difficulty in my life, these issues are not an excuse for my actions," he told the court. "I understood what I was doing and the decisions I made. However, I did not fully appreciate the broader effects of my actions. Those factors are clear to me now."
Manning's court-martial will reconvene on Friday, at which time the prosecution may choose to rebut the comments made on Wednesday. Judge Lind could read Manning's final sentence as early as next week. ®