BlackBerry: It's the end-to-endness, stupid
RIM's miracle impossible to recreate - but that won't stop people trying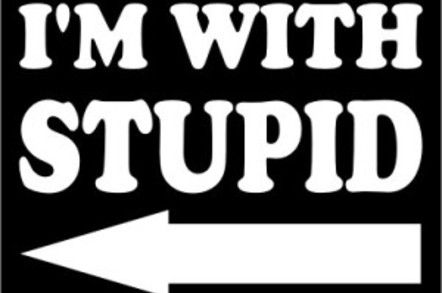 Analysis Going private still looks the most likely next step for BlackBerry, with Prem Watsa, the largest shareholder in the company, resigning from its board this week, apparently to put together a deal. Watsa still holds almost 10 per cent of BlackBerry stock.
Yet even if BlackBerry goes private, its options remain brutal. Nobody doubts there are jewels to mine, from QNX to BBM. The problem for any investor is how tightly dependent the parts of RIM are upon each other: what made BlackBerry's rise appear unstoppable was the integration - and it's the same thing that's made its decline look inevitable.
RIM broke the rules to achieve its dominant position a few years ago. At the turn of the century, the smart money was on a horizontally sliced industry, with Symbian and Microsoft at the bottom layers and competing markets all the way up the stack to the app layer.
Both the Symbian members and Microsoft sold this vision hard, and analysts tended to agree. What everyone forgot was that while it all looked nice on paper, the end user experience for basics like email was still pretty awful.
Meanwhile it had taken RIM many years to master the art of data transmission over primitive networks, as a supplier for far bigger companies. When it came to step up to offer an "end-to-end solution" RIM just happened to require you to buy its own hardware and its own servers - areas where the established giants like Nokia encouraged others to fill the gap.
It didn't fit the script, and it wasn't elegant: IT administrators mostly loathe BES and the technical shortcomings of the Java-based BlackBerry have been painfully apparent since the iPhone. But that end-to-endness delivered instant, tangible benefits. And against the odds, RIM parleyed these into something consumers could understand: flat rate data and best-in-class messaging.
Never mind Apple, RIM tended the first walled garden
Whatever you say now, RIM played its hand brilliantly for quite a few years. Time and again, the company defied critics who said its technology was too interdependent on other RIM tech, too walled-off to survive in a global, standards-based industry. We predicted it couldn't make its messaging work in the GSM networks world, and that established handset manufacturers with more elegant designs would make RIM irrelevant. Somebody, somewhere would come up with a standard that made all RIM's unique assets redundant.
They didn't. By 2005 Nokia was flogging phones with BlackBerry integration as a key selling point. (Although for some inexplicable reason, BB Connect never really worked on non-RIM devices). In each case the end-to-end-ness made for a powerful reason for CIOs to sign the cheques.
The trouble is that the same tight integration that made RIM compelling makes breaking it up, to realise the assets' value, that much more difficult. Some of these pieces are very much ex-crown jewels: efficient data transmission over low speed networks is no longer a unique factor, nor is push email. The company realises this and is gradually winding up its reliance on subscriber revenue from operators.
A BB10 phone does not need a specially provisioned SIM; you get your data in a bundle from the carrier, as with any other phone, and it does not even support the consumer push email of BB7 and older 'Berries. Service revenue is around 20 per cent of its revenue, and BlackBerry is managing a steady decline.
Project BBX: Keeping BlackBerry linked up
But one purported white knight saw the value of the BlackBerry network rather differently, however. In this "rescue plan", apparently floated last summer, maintaining the network was a key part of rescuing the company. Robin Chan, an early investor in Twitter and FourSquare, says he tried to assemble a team of engineers and raised $1bn for a turnaround strategy – some $5bn short of his target.
In Chan's "Project BBX" the end-to-end-ness would have been preserved, with BlackBerry gradually increasing its services revenue, much as IBM has gradually reduced its dependence on hardware. The venture envisaged RIM forking Android and rapidly porting its middleware to the fork, abandoning work on the QNX-based BB10. Intriguingly it sees the BlackBerry network - with POPs in data centres at every major carrier in the world - as an asset; a platform the company should maintain and build on.
Chan's BlackBerry would offer Android devices much the same middleware it offers today - as well as a downloadable BlackBerry software stack to run on iOS and other Android devices. The software-only offering wouldn't offer the same compression or security, but would still be differentiated from the generic Android. And BlackBerry would exit consumer hardware and instead sell MDM (mobile device mangaement) hard, acquiring what it couldn't rapidly build itself.
It's a fascinating plan - if more than a little optimistic. Under the BBX plan, BlackBerry would need to make a "secure" or "efficient" version of Android - which is like trying to teach a dead elephant some nifty ballet moves. Even if the engineers could achieve that, the result would barely be more secure or efficient than other Androids, so hard to differentiate. Why, then, stay in the costly hardware business at all?
In the mid-noughties the company-issue BlackBerry replaced the company-issue pager, in what was still a two-device world. But in the BYOD era people simply bring in their own iPhones and Galaxys. We can't help but be reminded that RIM's success owed very much to being in the right place at the right time, with an end-to-end offering that's no longer compelling.
Still, armchair M&A experts will enjoy Chan's now abandoned plan - it's worth a read. ®
Related Link
Project BBX - Turnaround Plan for BlackBerry (summer 2012)
Sponsored: How to Process, Wrangle, Analyze and Visualize your Data with Three Complementary Tools