Make or break: Microsoft sets date for CRUCIAL Win 8.1 launch
Plus: R2s of Server and System Center sneak out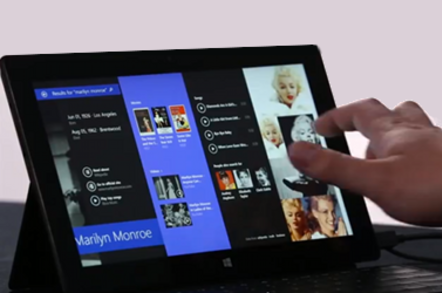 Microsoft will begin the second act in its Windows 8 drama on Thursday, 17 October. The company said today that Windows 8.1 would be available through the Windows Store in a free worldwide update for consumers already on Win 8 from 4am Pacific Time on that date (7am Eastern, 12 noon BST).
PCs and tablets featuring Windows 8.1 will be available for sale through retailers the following day, Friday 18 October.
Windows Server 2012 R2, System Center 2012 R2 and the latest update to Windows' Intune cloud computing solution will also be available on the Friday. There was no word on Visual Studio 2013.
The release of Windows 8.1 comes almost a year to the date after Microsoft released Windows 8 and the ARM-based Surface RT tablet.
Senior marketing communications manager Brandon LeBlanc blogged the news on the official Blogging Windows blog: "It's very exciting to be delivering Windows 8.1 to consumers just before Windows 8 celebrates its 1-year anniversary," LeBlanc said.
The date confirms reports that Windows 8.1 had been earmarked for an October drop.
Windows 8.1 is scheduled to be released to manufacturing (RTM) this month; although reportedly the code will not post to MSDN or TechEd between August and October. LeBlanc made no reference to an RTM date.
A 17 and 18 October release conforms to what has become an established pattern inside Redmond – of releasing new versions and updates to its client operating system in the 10th month of the calendar year.
The reasoning behind the October date is no doubt to help ease new Windows PCs loaded with the new OS update into the sales cycle for Christmas and the US holiday shopping season. That was the plan in 2012; only the wheels fell off somewhat. The then-new touchy Windows 8 OS was eventually partly blamed for one of the worst PC buying seasons in history.
OK, guys. Here's your desktop, here's your Start button
Announcing the news, LeBlanc rehashed the rather hollow Redmond party line that Windows 8.1 "continues the vision that began with Windows 8." In reality, Microsoft's been forced to take a step back by re-introducing features familiar to users of Windows that were dumped or hidden in Microsoft's rush to touch on Windows 8.
That rush cost Microsoft some sales, as customers dodged the "unfamiliar" look-and-feel of the new operating system.
News of the October release came 24 hours after shareholders filed a lawsuit claiming Microsoft misled investors during the Surface RT fiasco. The suit named Microsoft the corporation along with chief executive Steve Ballmer, former executive vice president of marketing and former Windows head Tami Reller, ex-CFO Peter Klein and vice president of finance Frank Brod.
The suit charges Microsoft with violations of the Securities Exchange Act of 1934, including failing to disclose "then presently known trends, events, or uncertainties" in its filings with the SEC. The shareholders claim Microsoft was aware of what was going on for many months, yet said nothing until its fiscal year had ended. ®