Think tank wants dedicated infosec minister, 'modern' data retention
Australian Strategic Policy Institute says government lacks infosec focus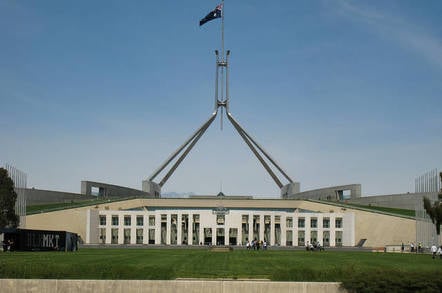 The Australian Strategic Policy Institute (ASPI) has issued an "Agenda for Change" (PDF) that suggests data retention is a necessary centrepiece of Australia's future homeland security needs.
The document's introduction, penned by ASPI Chair Stephen Loosley, says "Cyber espionage is the newest and most serious challenge to Australian national security." The document therefore calls for the next government (Australia goes to the polls on September 7th) to commission a "Cybersecurity White Paper within 12 months of taking office, and boost cyber policy and decision‑making capabilities."
ASPI thinks change is needed because "Australian policy performance on cybersecurity in the past few years has been poor." The think tank describes recent changes by the current government as "organisational tinkering" and notes that the minister with responsibility for information security, the Attorney-General, has a vast portfolio that leaves little time to focus on the topic.
The paper therefore calls for the establishment of a new ministry of "Security and Resilience" to "provide unity of command in areas related to counterterrorism, organised crime, border security, cybersecurity and emergency management."
That minister would have carriage of other information security initiatives ASPI feels should become strategic priorities, namely:
Establish a Prime Minister's Cyber Council, comprising leading business CEOs, senior officials and cyber
specialists to meet two or three times a year to discuss cybersecurity threats, challenges and solutions.
Establish a cyber policy unit, reporting to the Secretary of the Attorney‑General's Department, to act as a means
to bring cyber capabilities across government together (virtually, rather than physically), to strengthen reporting
to government.
Develop strategies to enhance cyber cooperation with the US
Establish a cybersecurity dialogue with China.
Develop a cyber regional engagement strategy for ASEAN Regional Forum countries.
The paper is also keen on data retention as a counter-terrorism measure and calls for the "modernisation" of the Telecommunications (Interception and Access) Act 1979 to "include a data retention regime that will allow law enforcement and intelligence agencies to maintain their investigative capabilities in this area despite developments in technology and communications methods."
ASPI knows that's a controversial position but feels telcos are changing the kind of data they keep in ways that hamper investigators. The paper therefore suggests data retention as proposed by the Parliamentary Joint Committee on Intelligence and Security's recent inquiry "wouldn't necessarily mean an expansion of the existing powers, but would simply require telecommunications agencies to retain the data for a period. "
What could possibly go wrong with that? ®