Lawsuit claims Microsoft misled investors in Surface RT fiasco
Class action demands damages after hefty stock hit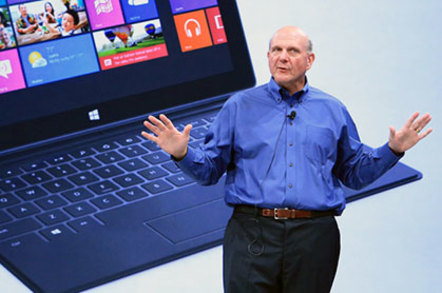 A US law firm has filed a class-action lawsuit on behalf of Microsoft shareholders, alleging that Redmond misled investors when it failed to alert them to dismally poor sales of its ARM-based Surface RT fondleslabs.
According to a press release issued by the law firm of Robbins Geller Rudman & Dowd on Monday, the suit charges Microsoft with violations of the Securities Exchange Act of 1934, including failing to disclose "then presently known trends, events, or uncertainties" in its filings with the Securities and Exchange Commission.
In addition to the corporation itself, Microsoft execs and former execs Steve Ballmer (CEO), Peter Klein (ex-CFO), Frank Brod (VP of finance), and Tami Reller (executive VP of marketing, former Windows head) are named as individual defendants.
Specifically, the complaint alleges that Microsoft knew Surface RT sales were miserable, yet company execs persisted in describing its tablet business in glowing language that was "materially false and misleading."
Until recently, Microsoft had indeed held its Surface sales figures close to its chest. While sales were "modest," CEO Steve Ballmer said, customer reception to the product was "fantastic" – hardly the kind of material facts upon which you'd base stock purchasing decisions.
But the first shoe dropped in mid-July, when Redmond reported its fourth quarter and annual results for fiscal 2013. The company took a whopping $900m inventory adjustment charge on unsold Surface RT kit, which Microsoft is now attempting to clear out of its warehouses at a $150 discount. Its shares plummeted 11.4 per cent on the news, their biggest single-day decline in four years.
Then came the other shoe. In late July, Microsoft revealed that its combined revenue from Surface RT and Surface Pro sales had been just $853m – less than the charge it took on Surface RT. Microsoft's fondleslab group was effectively almost $50m in the hole, and Surface RT was to blame.
Robbins Geller's lawsuit alleges that Microsoft was aware of what was going on for many months, yet said nothing until its fiscal year had ended.
Furthermore, it contends that the "material decline in value" of Microsoft's unsold Surface RT inventory actually took place in the third quarter of 2013, which ended in March. Redmond didn't report the decline until the end of its fourth quarter, which the suit claims means any investors who bought Microsoft shares between April 18 and July 18 had been deliberately kept in the dark about the upcoming $900m hit.
The full text of the plaintiffs' complaint is available here, complete with extensive examples of what it alleges are misleading statements by Microsoft bigwigs.
"Plaintiff and the Class have suffered damages in that, in reliance on the integrity of the market, they paid artificially inflated prices for Microsoft common stock," the complaint claims. "Plaintiff and the Class would not have purchased Microsoft common stock at the prices they paid, or at all, if they had been aware that the market price had been artificially and falsely inflated by Defendants' misleading statements."
When contacted by The Reg about the lawsuit, Microsoft declined to comment.
Robbins Geller has some prior experience with these types of suits. Its biggest victory to date was a $7.3bn settlement with Enron in 2009, one of the largest class-action awards in US history. Its current complaint against Microsoft does not name the specific damages it seeks, except that they should cover all of the losses incurred by defendants, plus interest and court costs.
Microsoft shareholders who would like to join in the action are encouraged to contact Robbins Geller via its website no later than October 11, 2013. ®
Sponsored: Practical tips for Office 365 tenant-to-tenant migration