New York State to investigate 'Wild West' Bitcoin industry
Smuggling, money laundering, kiddie porn ... banking bod seeks the TRUTH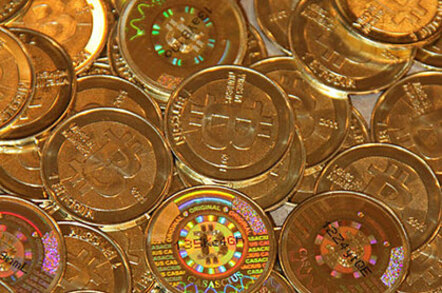 A New York State banking regulator has issued subpoenas to more than 20 Bitcoin-related companies as part of an inquiry into the business practices of the virtual currency industry, The Wall Street Journal reports.
"If virtual currencies remain a virtual Wild West for narcotraffickers and other criminals, that would not only threaten our country's national security, but also the very existence of the virtual currency industry as a legitimate business enterprise," Benjamin Lawsky, who heads the New York Department of Financial Services, said in a memo accompanying the subpoenas on Monday.
The subpoenas were sent to a cross-section of companies involved in the Bitcoin industry, sources claim, including BitInstant, Coinbase, and Coinsetter, among others.
Investors who have backed Bitcoin-related ventures were also named, including Google Ventures and Winklevoss Capital Management – the latter being the firm owned by Mark Zuckerberg's unfriended former Harvard classmates, Cameron and Tyler Winklevoss, who have taken great interest in Bitcoin of late.
An official told the Associated Press that 22 subpoenas have been issued in all, seeking information on such topics as what measures Bitcoin companies may have taken to prevent money laundering, and what kind of consumer protections might be available for Bitcoin investors.
"We believe that – for a number of reasons – putting in place appropriate regulatory safeguards for virtual currencies will be beneficial to the long-term strength of the virtual-currency industry," Lawsky's memo explained. "We have seen instances where the cloak of anonymity provided by virtual currencies has helped support dangerous criminal activity, such as drug smuggling, money laundering, gun running and child pornography."
The department's move comes not long after a federal magistrate judge in Texas ruled that Bitcoin was, indeed, a currency – paving the way for a trial to determine whether a Bitcoin trader in that state is guilty of securities fraud.
Various other state and federal agencies have recently taken an interest in the virtual currency as well, citing an apparent lack of regulatory oversight of Bitcoin transactions.
Coinsetter CEO Jaron Lukasiewicz told the WSJ on Sunday that "most companies are working to legitimize Bitcoin and want to build bridges that help regulators understand and support these financial innovations."
We shall see. How long the affected companies have to respond to the State of New York's subpoenas is not clear, and the Department of Financial Services has yet to respond to our request for comment, sent late on Monday afternoon from El Reg's San Francisco annex. ®
Sponsored: Detecting cyber attacks as a small to medium business