BlackBerry pie sliced up: Nuke-plant OS, BBM chat app, etc sale mulled
Bunch of bankers set out 'strategic alternatives' for RIM pieces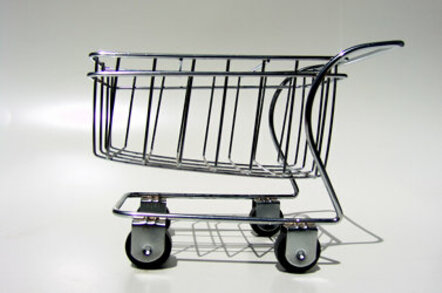 Troubled mobe-maker BlackBerry has confirmed it is "exploring strategic alternatives" to remaining as one enormous company - confirming wire reports last week of a potential breakup.
The firm formerly known as RIM said a "special committee" has been formed to examine options that "could include, among others, possible joint ventures, strategic partnerships or alliances, a sale of the company or other possible transactions".
The biz, led by CEO Thorsten Heins, hired investment bankers to look at licensing its QNX-powered BlackBerry OS 10 a year ago (that's the operating system otherwise known for running nuclear power plants and other critical systems). Today the committee's chairman Tim Dattels, a partner at TPG Capital, confirmed:
Given the importance and strength of our technology, and the evolving industry and competitive landscape, we believe that now is the right time to explore strategic alternatives.
More spectacular corporate falls in the technology world are hard to find. BlackBerry's market capitalisation reached C$84bn in 2008, but it's about C$5bn now.
The company waited until 2013 to release a modern smartphone – long enough for enterprises once fans of BlackBerry's hardware to reluctantly accept the bring-your-own-device-iPhone trend, and users reluctantly quit BlackBerry Messenger for WhatsApp and other free alternatives to BlackBerry's once-popular chat software.
Only 2.9 million units of the BlackBerry-OS-10-powered Z10 and Q10 touchscreen smartphones shipped into the channel (which is not the same as staying sold) in the second quarter of this year, the first full quarter of BBOS 10 device sales.
So, aside from its patent portfolio (the value of which is all but impossible to guess at this stage), what's there to flog off?
Most obviously, the BlackBerry hardware business absorbs most of the Canadian company's resources. BlackBerry has pulled out of Japan and is struggling to regain any traction in the United States - where its market share has dipped to below three per cent.
Yet Google has proved you don't have to be a large horizontally integrated manufacturer to make smartphones - quite apart from its Motorola Mobility division, Google's engineers hand the Nexus reference design to a contract manufacturer each year to showcase its Android software. BlackBerry could be tempted to do the same.
That leaves BlackBerry OS 10 - and potential buyers may reckon that the market has already spoken on that particular platform - and three really quite respectable "startups", if you will. These are: a dull but worthy enterprise device management software company (basically touting BlackBerry Enterprise Server); the bit of the company looking after the QNX microkernel technology; and a neat VoIP-plus-instant-messaging app called BlackBerry Messenger, which in terms of crazy internet evaluations is probably worth more than the rest put together. We mulled the strengths of these assets recently in more detail.
So. Stick or twist? ®
Sponsored: Detecting cyber attacks as a small to medium business