1,100 haiku heading to Mars on next NASA mission
MAVEN orbiter / silently sails sentiment / 'round the Red Planet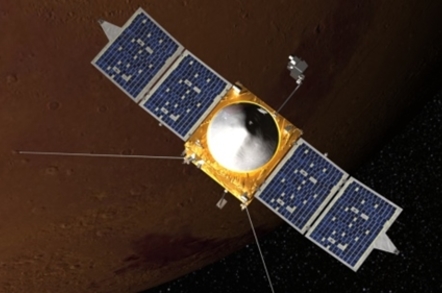 The next NASA probe to Mars will carry a DVD containing 1,100 haiku submitted and voted on by members of the public, with British author Benedict Smith winning first place with this gem:
It's funny, they named
Mars after the God of War
Have a look at Earth
The haiku will be carried to the Red Planet on the Mars Atmosphere and Volatile Evolution spacecraft (MAVEN), which arrived at NASA's Kennedy Space Center last week for decontamination and fueling ahead of its planned launch in November. Also on the DVD will be student artwork about Mars and the names of tens of thousands of members of the public who registered.
MAVEN won't actually land on Mars itself; it's an orbital probe designed to study the planet's upper atmosphere and the effects of solar wind on surface conditions. The $485m satellite carries an imaging ultraviolet spectrometer (IUVS) that was built by the University of Colorado, and as part of a NASA public outreach campaign, the university conceived of the haiku payload as well.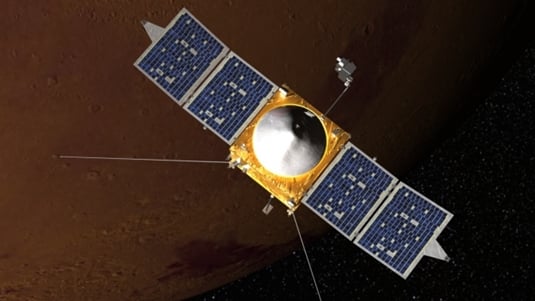 MAVEN carries poetic payload
Haiku is a form of poetry gifted to mankind by the Japanese, and consists of three lines describing a concept, with the first and last lines having five syllables each and the middle line having seven. It's the type of thing that takes a minute to learn and a lifetime to master, but the competition attracted some big names and over 12,000 entries.
"The contest has resonated with people in ways that I never imagined," said Stephanie Renfrow, MAVEN Education and Public Outreach leader and the Going to Mars campaign leader in a canned statement.
"Both new and accomplished poets wrote poetry to reflect their views of Earth and Mars, to share their feelings about space exploration, to pay tribute to loved ones who have passed on and to make us laugh with their words."
A cynic might suggest that this is a pointless exercise in publicity, since no one is going to be able to access the data, and once MAVEN's fuel is exhausted it's expected to fall into the Martian atmosphere and burn up.
But this hack thinks that's missing the point. Thousands of people were inspired by the project to think about Mars and put finger to keyboard as a result. Granted, some of the haiku aren't up to much – even to this novice's eye – but it's the thought that counts.
Bootnote
Here at Vulture Annex we have our own master of the art form that is haiku, which you can enjoy here, written a half-dozen years ago. ®