Watchdog drags Home Office to naughty step for dragging feet on FOIs
Theresa May's tardy dept told: 'Big Brother's Big Brother is watching you'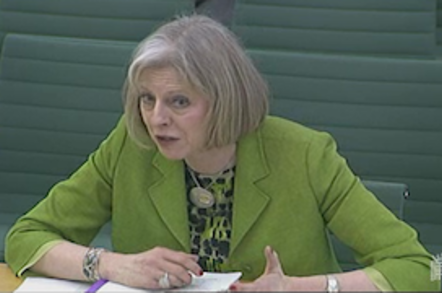 The Home Office may face sanctions if it fails again to reply to Freedom of Information (FOI) requests on time, the Information Commissioner warned today.
The department - run by Home Secretary Theresa May - will be monitored by the watchdog to see how fast it responds to FOIs received between 1 July and 30 September this year.
In June, the Information Commissioner's Office (ICO) ruled [PDF] the Home Office breached the Freedom of Information Act by taking far too long to reject an FOI query regarding the filtering mechanism set out in May's now torpedoed Communications Data Bill, aka the proposed "Snooper's Charter".
Her department faced scrutiny from the public over a derailed attempt to massively ramp up surveillance of Brits online - and it continues to attract attention thanks to its controversial "go home" posters in London's multiethnic boroughs and other affairs.
The ICO, which is also eyeballing Sussex Police and South Tyneside Council, said that the public authorities were placed on the naughty step following "a significant number of complaints" about the "timeliness" of responses to requests for information from Brits.
It added that a smaller number of gripes involved delays that extended well beyond the statutory time limit. Whitehall departments, local councils and government agencies are supposed to respond to FOIs within 20 working days.
Information Commissioner Christopher Graham said:
The government has made a clear commitment towards making the UK's public sector one of the most transparent in the world. Responding to FOI requests within the time limit of 20 working days is an important means of achieving this objective.

We hope that these authorities can make the improvements the public has a right to expect. We should not have to order authorities to respond to requests in time.
This isn't the first time that a Whitehall department has been chided by the ICO for failing to respond to FOIs in a timely manner.
The Department for Work and Pensions, Department for Education and Office of the First Minister and Deputy First Minister in Northern Ireland were all recently monitored by the regulator for failing to deal quickly with such requests.
After the ICO told the departments to improve their processes, the watchdog said it was "satisfied" that the DWP and DfE "had taken sufficient action to ensure the backlog is addressed."
But further action could be taken against the Office of the First Minister and Deputy First Minister for failing to respond to a number of outstanding FOIs that involved lengthy delays. Ludicrously, one such request remains unanswered over 500 working days after it was received, the ICO noted. ®