Cool cars, cat-crushing chronometers, cashmere ... is this your IT boss?
Identify status symbols in the tech chain - it's as easy as a flick of the wrist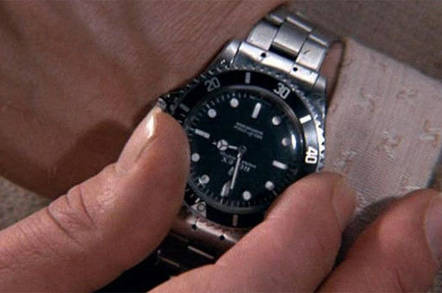 The story goes that one day a printer vendor rep turned up at a distributor of IT gear. The rep had a message to deliver: "Your sales of our printers are not good enough".
The MD took the rep out to the car park, opened the rear door of his motor and gestured to a high-end shotgun lying across the back seat. Message received and understood: said distributor was clearly a fan of country pursuits, and presumably had been distracted by the grouse season.
Thankfully, not all status symbols in the distribution channel involve firearms in the back of a smart ride.
They tend to be "boys with toys" items, chunky watches, flash suits and, for those so inclined, enough gold hanging off various appendages to make the Brink's-Mat robbers consider one last job.
Still, there's one channel status symbol that endures, which also requires a licence.
Back in the pre-PC 1970s, it was the sporty Volvo P1800 ES or the Lamborghini Countach: low-slung boxy thrusting sports cars for low-slung boxy thrusting sales executives.
Looking at pics of the sporty Swedish number, you might conclude it's aged somewhat better than the suits of the time. No self-respecting channel thruster would be seen out of his polyester bell-bottom strides and wide butterfly collar shirt, though six-inch platform shoes were thankfully optional. And let's not mention haircuts. It might bring tears your eyes.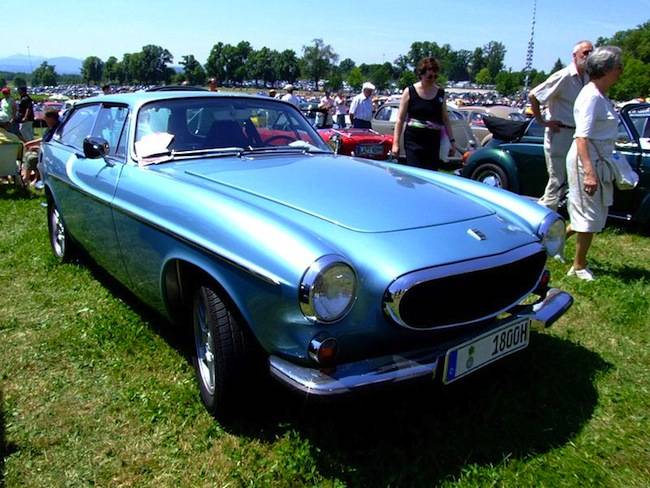 Boxing clever ... the Volvo P1800 ES
I want, I want, I want
Today, it's generally still the same in the lucrative channel world: suits and cars. Mercifully, the threads are a bit more stylish though they've clearly got to be a mix of cashmere and wool, with silk and fine cotton also thrown in. The higher the cashmere quota the better.
Plus ca change. I remember one channel bigwig in the mid-1990s chewing his nails, worrying whether he'd be the first in the Thames Valley to get his hands on the then just introduced Porsche Boxster.
These days, the Porsche is still ticking boxes for high-fliers, although you've got to be heading into the £100,000 price range to be able to pull off the status thing. The Boxster probably doesn't cut it these days. We're reliably informed it's derisively known as the Cockster. And while you're at it, don't even think of getting a Cayman. We'd advise going straight to the 911 at the very least.
And, of course, there are personalised number plates which have to cost £1,000 or more to have any status credibility. But this can have its pitfalls. Another well-known channel "character" had his surname on his car plates followed by the number 1 just to let everyone know who was who.
Hardly surprising then that one day he came down to his Porsche and discovered a sticker over the plate with "c**t" spelt large across it.
At the risk of sounding vaguely academic the psychology of status symbols is the external denotation of social position and a perceived indicator of economic or social status. Are you still reading? Well done. For example, outside of certain areas of Manchester, Liverpool and Middlesbrough how many people can drive around with a shotgun on the back seat of their car with impunity? Not many and that's the point.
Putting weapons of destruction to one side, down on the sales floor the channel's ambitious people are encouraged to elevate themselves to positions of envy by casting an eye out into the car park to check the director's high-end luxury motors buffed and waxed - winking enticingly, metaphorically speaking.
Jagged edge
"It's a sort of encouragement," says Avnet's Sukh Rayat, who is far too classy to tell us what he's driving these days.
But then again this can also have its drawbacks. Andy Trish, of NCI Technologies, relates a back-in-the-day story of the MD of one reseller who loved his top-of-the-range, chrome-on-everything, diamonds-in-the-back Jaguar. He drove it everywhere and made sure it was nice and polished all the time. Especially when he went to meet prospective new customers.
Unfortunately it seems the great unwashed and uneducated - ie, customers - don't always get the psychology of status symbols. Trish says the gleaming Jag and general air of superiority actually gave some customers the feeling that he was going to shaft them. So, they decided not to buy anything from him, to the benefit of Trish who scooped up the business in the wake of the reseller's failed Jag-fuelled missions.
Rayat reckons for most channel types status symbols are merely a byproduct of success and not the motivators for most people, unless they happen to have big egos or are in sales. Which, of course, means most of the channel.
However, until they reach the point of big, fat, gleaming motors, sales people tend to jostle for status via their suits, he says. Think Gucci, Prada, and the classic Gieves & Hawkes or Hugo Boss.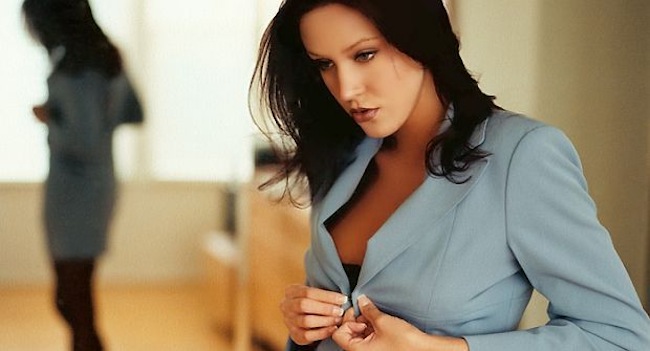 Looking smart ... It pays to dress for success (wince)
Holidays are another status symbol that have stood the test of time. In the 1970s and 1980s the lower downs would have been regaled with tales of villas in Spain and the south of France. Today, it usually has something to do with skis and snow.
In fact, one channel player says if you don't want to be beaten into a zombie-like condition avoid meetings during the month after prime powder season. Otherwise you're likely to be subjected to interminable tales of perfect snow, glistening skies and champagne in Verbier, Val-d'Isère and so on and on and on. (When we say snow, we refer, of course, to the precipitation. The other sort is outside our expertise.)
But there's also a Noughties phenomenon that's working its way into the status symbol lexicon – the human body. Back in time when most of us were manual labourers, darkened by the sun and thinned and muscled by hard physical graft, the ultimate status symbol was to be pale and fat. That is, too rich to work.
You may reckon your boss is still adhering to the Mr Blobby model but out on the sales floor there's a lot of chest thrusting, tightening of the biceps and buttock clenching going on - and not just when the women skip by, or when sales suddenly shift into the next quarter.
Today's channel sales leaders have picked up on the primal muscle thing – it's a sign they're in control and heading places – even if it's just the hospital to sort out the resulting hernia. One useful byproduct of the pumping iron phenomena is that it's now just that little bit easier to drag those big chunky Rolexes beloved of channel types around.
Sponsored: Minds Mastering Machines - Call for papers now open