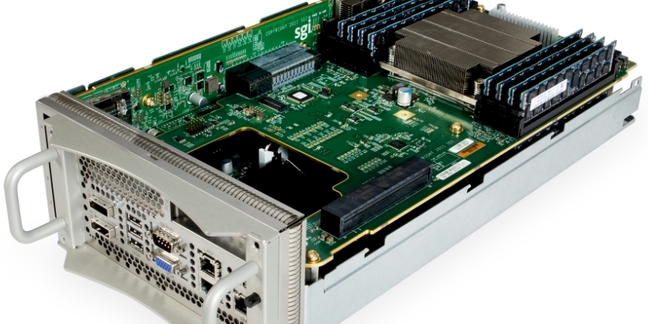 Supercomputer and high-density server maker Silicon Graphics is still not back on track to profitability, but CEO Jorge Titinger says he knows what to do: Back away from the knife fight of providing infrastructure to public cloud providers and focus on commercial HPC systems, related big data systems, and the storage that sits behind both.
The latter offer some margins, while the former does not. It is that simple.
In a conference call going over SGI's financial results for the fourth quarter of fiscal 2013, which ended in June, Titinger said that the company's public cloud business accounted for around $200m in revenues during that fiscal year, and that it would likely shrink over time.
It's common knowledge that Amazon is SGI's largest public cloud customer and that it accounts for the lion's share of SGI's sales to cloud providers. Amazon was not mentioned by name in this call, but clearly SGI is not willing to give it the pricing it wants on its servers, not even when this unnamed "largest cloud customer" bought $139m in iron in fiscal 2013, exceeding expectations.
If you do the math, public cloud providers accounted for 27 per cent of total sales in the fiscal fourth quarter, or about $46m, but Titinger said the company expects sales to public cloud providers to shrink by $25m to $30m in the first quarter of fiscal 2014. This is a stunning drop. With that kind of decline – and let's assume a worst case scenario – the cloud business might be on the order of $70m to $80m in fiscal 2014. Or it might be even lower, depending on the margin pressure.
Titinger doesn't want Wall Street to freak out after hearing this news, and frankly, with open source hardware available through contract manufacturers in Asia, it's not really much of a surprise. The plan is for SGI to move up the value stack, leveraging its UV 2000 shared memory systems, its ICE X clusters, and InfiniStorage arrays in core HPC markets and emerging big data and quasi-HPC markets at government agencies and corporations.
"We have learned that UV is highly differentiated in big data," Titinger said on the call, adding that UV system sales were lower than expected in fiscal 2013 but were ramping and would see revenue growth in fiscal 2014.
He did not provide revenue figures for the UV machines, which use SGI's own NUMAlink 6 interconnect to glue Intel Xeon E5-4600 processors into a big, bad system with 2,408 cores and 64TB of main memory. But Titinger did say that the UV pipeline now stood at $200m, and while all of that business will not close in fiscal 2014, a good portion probably has to for SGI to make its numbers.
A number of customers are exploring the use of UV systems as big, shared-memory virtualized systems running open source software; the idea is to splurge on the iron and go cheap on the software and get a more flexible system to boot. (You can't run a giant job easily on a cluster of plain vanilla servers lashed together using Ethernet or InfiniBand, but you can with NUMAlink 6 interconnects.)
The super-dense ICE X Xeon clusters are another bright spot that SGI is counting on to fill the gaps left behind by its cloud infrastructure shrinkage. Titinger did not give the size of the ICE X pipeline, but said that it generated around $100m in sales in fiscal 2013 and that the plan was for this line to grow around 20 per cent in fiscal 2014. Much of the sales will come in the second half of the fiscal year, due to the budgetary timing of some large deals.
SGI wants to be careful with the ICE X line, of course. It was over-enthusiasm over the "Sandy Bridge" Xeon E5 chips and the very excellent designs of the ICE X machines that got the company involved in $87m in low-margin deals that forced a restructuring of the company and brought Titinger in as CEO in February 2012. These LMDs of profit destruction have largely been booked and the issue has been dealt with.
The company is also counting on Hadoop big data munching to be a growing business, and says it has installed tens of thousands of server nodes running commercial Hadoop installations.
Add it all up, and the big data, HPC, and storage businesses are expected to grow around 15 per cent in fiscal 2014, making up for the difference in the lost public cloud sales and – here's the kicker – at a higher gross profit margin. That's the plan, anyway, and here's to hoping it all works out. (So far, Titinger and his team have done a good job getting SGI back on track.)
In the quarter ended in June, SGI's revenues were down 5 per cent to $170.5m. Product revenues were down 4 per cent to $129.2m, while services revenues were off 8.1 per cent to $41.3m. Within the product segment, compute represented 86 per cent of revenues, or about $111.1m, while storage made up the remaining $18.1m. SGI posted a net loss of $4.5m, which is considerably better than the $18.4m loss it had in the year-ago period.
For the full year, SGI had $767.2m in revenues, up 1.9 per cent, and booked a net loss of $2.8m compared to a net loss of $24.5m in fiscal 2012.
It is safe to say that Titinger and CFO Bob Nikl have nearly turned the company around, and are not going to be tempted to give Amazon or anyone else the cheap iron they crave just for the sake of making them happy and SGI's own shareholders miserable.
Looking ahead, SGI is expecting revenues for the first quarter of fiscal 2014 to be in the range of $160m to $170m, and that is with the big cut in spending by cloud customers. For the full year, SGI says to expect around 8 to 10 per cent growth and that, on a non-GAAP basis ignoring restructuring and stock compensation costs, will bring in at least $1 of earnings per share. ®
Sponsored: Practical tips for Office 365 tenant-to-tenant migration