Top Brit biz giants love to outsource IT so much, they're gonna do it more
The only way is up ... and out of the business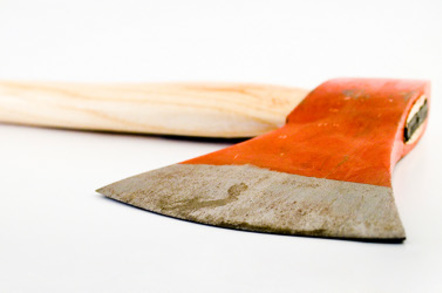 Most UK businesses involved in outsourcing IT are planning to either increase or maintain the current levels to which they outsource, according to a new survey.
A survey of more than 230 of highest spending UK businesses on IT by Whitelane Research revealed that more than a third of those businesses are planning to increase the amount of IT outsourcing they do.
"The results show that 37 per cent of participating companies will continue to outsource more while another 37 per cent indicate that there will be no change in their outsourcing activities," a Whitelane statement said. "Whitelane's study reveals that 13 per cent of organisations are planning to insource (or outsource less)."
The promise of reducing costs is the main driver behind most businesses' decisions to outsource IT, according to Whitelane's survey. Of those organisations surveyed, 85 per cent said they were satisfied with their outsourcing contract, although 22 per cent of businesses said they had not renewed at least one contract with incumbent suppliers in the past year, Whitelane said. Almost half of the businesses surveyed said they had renegotiated contracts with IT suppliers in the last 12 months and more than 80 per cent reported that they were "successfully able to achieve cost reductions and better terms and conditions" as a result.
Last month IT contracts expert Iain Monaghan of Pinsent Masons, the law firm behind Out-Law.com, said that IT buyers should not feel they cannot update existing agreements with suppliers.
"Contracts need to change to reflect customer circumstances, the economic environment and developments in technology," Monaghan said. "That requires a degree of engagement between buyers and suppliers so buyers can keep suppliers informed of their business needs, and suppliers can best deliver services to their clients and inform them of the limits of what they can supply at the price customers are willing to pay."
"Suppliers are less resistant to renegotiating existing contracts if buyers can show that there is a reason for change and that the change offers a new business opportunity to the supplier. This is why constant engagement with suppliers is important. The contract is meant to embody a relationship with the supplier," he added.
Customers may feel locked in to contracts
IT and telecoms contract specialist Clive Seddon of Pinsent Masons recently said that well drafted outsourcing contracts can help smooth the process for renegotiations.
"Customers may feel locked in to contracts, but well drafted IT outsourcing contracts are designed in such a way that they allow both parties flexibility in recognition of changes that can arise during the course of the contractual relationship," Seddon said.
"From the perspective of customers, renegotiations can be necessary to account for changes to their business, advancements in technology or because of economic pressures. Suppliers also need to be able to alter the way they deliver services and it is in the interest of buyers to offer an element of flexibility in this regard to ensure that they continue to receive the best value service."
"There are several contractual mechanisms that can be used to trigger or promote renegotiation discussions, besides standard benchmarking of service delivery," Seddon added.
Specialist in dispute resolution in the ICT sector David Barker of Pinsent Masons previously told Out-Law.com that potential conflicts will arise with suppliers if the misalignment of business needs and the provision of IT services is allowed to drift.
"If poor alignment is not tackled promptly you can reach a point where relationships between businesses, the in-house IT community and third party suppliers become extremely strained," Barker said. Barker said that the most effective renegotiations involve suppliers and customers to finding 'win-win' solutions, such as by enabling suppliers to sell, and customers to gain access to, new technology.

Copyright © 2013, Out-Law.com
Out-Law.com is part of international law firm Pinsent Masons.