Super Micro closes out record year, eager to cross Ivy Bridge
HPC servers and dense storage sales exploding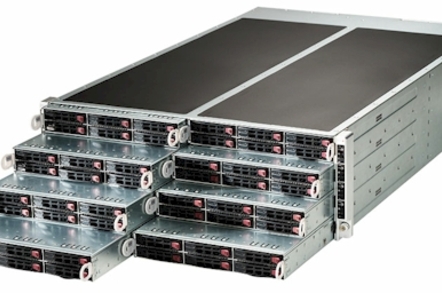 Motherboard and whitebox server maker Super Micro Computer has just closed out a bumper fiscal 2013, despite issues from hard-drive shortages, an uncertain European economy, and having to ramp up its factories in the Netherlands and Taiwan.
Having outgrown the server market by a factor of three in the prior twelve months, cofounder and CEO Charles Liang thinks that his company can do it again in fiscal 2014.
In the quarter ended in June, Super Micro raked in $322.3m in revenues, a 16.8 per cent increase over the year-ago period. The company had higher research and development costs, but kept hiring to a minimum (adding only 27 employees, to a company total of 1,595 people), trimmed other costs, and kept operating expenses in check. Income taxes in the quarter went up, but even still, the company boosted net income by 52.9 per cent to $8.4m.
This is the best quarter in the company's history.
The comparison in fiscal Q4 was somewhat easier than what it might have otherwise been. Intel, you will remember, pushed out the launch of its "Sandy Bridge" Xeon E5 processors from the end of 2011 to the spring of 2012, forcing Super Micro to miss its revenue guidance for the June quarter in fiscal 2012. The Sandy Bridge ramp coincided with the loosening up of disk drive supplies, and the current fiscal year made up the difference – and then some.
For the full year, Super Micro turned in its highest revenues for a fiscal year, too, with sales of $1.16bn, up 14.8 per cent. However, the hard disk drive shortage – and then glut – cut into profits early in the first and second quarters, and net income for fiscal 2013 was down 28.7 per cent to $21.3m.
Given the cut-throat nature of Super Micro's business, the fact that it can even bring 1.8 per cent of revenue to the bottom line in a tough year says much. In the fourth fiscal quarter, net income was 2.6 per cent of sales.
The whitebox server and storage component business is not one in which you can make high margins, not with tier-one vendors above you and Open Compute and other bespoke server makers slashing at you from below. This is a business you have to do for love as much as money – and, by the way, there is nothing wrong with that. In fact, there is something right with that.
In a conference call with Wall Street analysts after the markets closed on Tuesday, Super Micro CFO Howard Hideshima said that the company shipped over 64,000 servers in the quarter. That was only a 3.2 per cent increase compared to the 62,000 machines Super Micro built and sold in the year-ago period. But because average selling prices were up to $2,400 a pop, compared to $2,000 on average a year ago, server revenues shot up nicely. Systems, which includes storage arrays and switches as well as servers, accounted for $153m, up 24.4 per cent from Q4 of fiscal 2012.
CEO Liang said that the revenue increase from Q3 to Q4 was mainly due to the uptake of Super Micro's storage arrays, and the big seller was the SCA47B array, which crams 72 3.5-inch disk drives into a 4U chassis. "Demand for high density storage is very high," said Liang.
In its public reporting, Super Micro does not break out servers for compute distinctly from servers used to drive storage, but Liang said that year-on-year storage revenues were up 46 per cent. Servers crammed with GPUs and aimed at high performance computing centers saw a 30 per cent revenue bump, and the fledgling Super Micro switch business was up 39 per cent.
On the server front proper, Liang says that its FatTwin machines, launched just nine months ago and sporting some of the densest server infrastructure on the market, had 179 per cent growth from the third quarter of the fiscal year, which is just an explosive ramp. "It really broke out," says Liang.
Super Micro has just launched a line of uniprocessor machines that are based on Intel's "Haswell" Xeon E3 chips, and is champing at the bit to get machines into the field based on Intel's "Ivy Bridge" Xeon E5 and "Avoton" Atom C2000 processors. And its MicroCloud minimalist cookie-sheet servers, which cram eight or twelve nodes into a 3U chassis, will soon be able to have two dozen nodes in the same enclosure. (Presumably using the Avoton Atoms, but Liang did not elaborate.)
Super Micro shipped 1.27 million subsystems and components in the fiscal fourth quarter, up 8.6 per cent, which drove $169m in revenues, up 10.5 per cent. (Yup, downstream partners are gearing up for the Ivy Bridge assault.)
In the quarter, hyperscale data center operators generated $30.6m in revenues for Super Micro, significantly lower than the $42m it had in the year-ago period. Liang said that ramping up the factory in Taiwan would help Super Micro better compete for this business because it can build systems and components less expensively there than in the United States.
But don't get the wrong idea, because 56.2 per cent of Super Micro's business came from the US and Canada and another 23 per cent came from Europe. Liang said, in fact, that the US business is growing fast, particularly on the East Coast. That could be financial services firms looking for new suppliers, and it could be all of the data center operators hovering around Washington DC.
Looking ahead to the first quarter of fiscal 2014 ending in September, Super Micro expects for revenues to be in the range of $295m to $315m, and Hideshima reminded everyone that its fiscal Q1 is generally the weakest one of the year given the timing of server processor launches and the traditional push to buy stuff between October 1 and December 31 in data centers wherever possible.
Non-GAAP net earnings per share for Q1 of fiscal 2014 is expected to be between 17 and 23 cents, which is considerably lower than the 26 cents per share non-GAAP that the company just booked in Q4 of fiscal 2013. ®
Sponsored: Detecting cyber attacks as a small to medium business