KingSpec's 2TB Multicore PCI-E SSD whopper vs the rest
Scorching speeds shootout, if you've money to burn
So can you match it for less than three-and-a-half grand?
Do you have to spend over three grand to get yourself 2TB of eye-wateringly quick solid state storage? First off, let's deal with the capacity issue. The whole area of huge capacity SSDs has somewhat been turned on its head thanks to the 960GB flagship of the new Crucial M500 range. The drive is not only the first near-1TB capacity SSD for the consumer space, it also sets the cat amongst the pigeons with its price tag.
ATTO benchmark results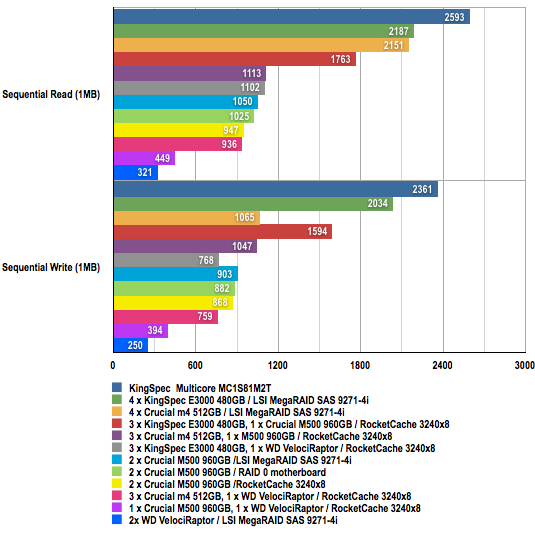 Data transfers speeds in megabytes per second (MB/s)
At the time of writing, Crucial is selling it at £474. For a shade under £950 you can get two drives, stick them in a RAID 0 array and get close to the KingSpec drive's capacity – job done. But what about trying to match the MC1S81M2T's headline speeds, or tested speeds at any rate?
To see if I could get close to the MC1S81M2T's performance I tried a number of different drives arrays – using a mix of Marvell and SandForce controllers and all built into RAID 0. I also utilised two types of PCI-E 8x based controllers: a Highpoint RocketCache 3240x8 and an LSI MegaRAID SAS 9271-4i.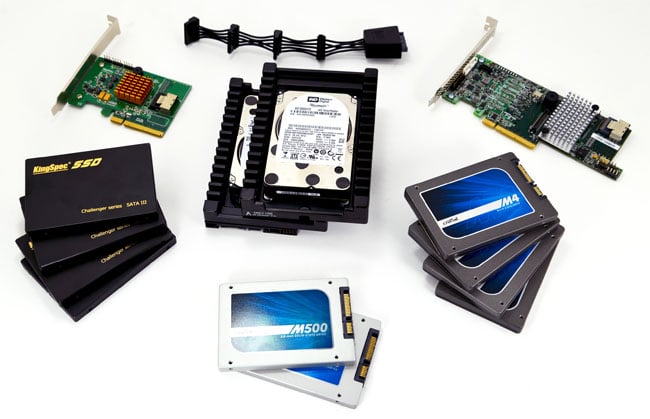 Highpoint RocketCache 3240x8, LSI MegaRAID SAS 9271-4i cards, WD HDDs plus KingSpec and Crucial SSDs
The RocketCache 3240x8 allows a mix and match of drives to be used, which enabled me to use a variety of SSDs to get to a 2TB capacity. The SSDs in question were a pair of 960GB Crucial M500s, four of Crucial's previous generation m4 drives at 512GB apiece and four 480GB KingSpec E3000 (enterprise grade) drives. Just for good measure, I also threw in a couple of the fastest spinning SATA based mechanical drives in the shape of a pair of 1TB Western Digital VelociRaptors into the mix.
AS SSD benchmark results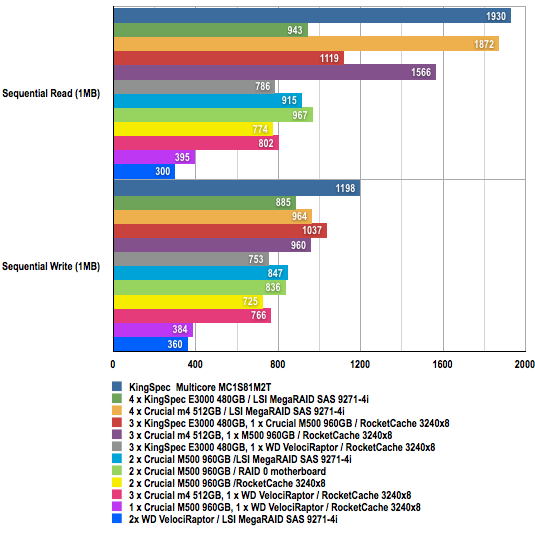 Data transfers speeds in megabytes per second (MB/s)
Once the dust had settled, it turns out that the nearest I could get in performance terms to the KingSpec MC1S81M2T tested sequential read/write speeds was also the next most expensive mix of all the hardware I had to hand. This arrangement comprised four of KingSpec's 480GB E3000 drives being controlled by the LSI MegaRAID SAS 9271-4i. Even this combination was 400MB/s shy of the ATTO read score of the MC1S81M2T and 327MB/s down on the write performance.
The Reg Verdict
So in the niche market of high capacity SSDs, the KingSpec MC1S81M2T sits in the even smaller niche of high capacity PCI-E based SSDs. It's hugely expensive and very, very quick but — and it's a very important but — it's only properly fast when it comes to handling the type of large file sizes it has been designed to handle, in the market segment it's aimed at, not the everyday bitty type of file the majority of us use. That aside, the KingSpec MC1S81M2T delivers a glimpse into the future regarding the performance of SATA-Express drives appearing in years to come with notably lower price tags. ®
Many thanks to Scan Computers for the loan of the LSI card.
Sponsored: Webcast: Build the next generation of your business in the public cloud

KingSpec's 2TB Multicore PCI-E SSD whopper vs the rest
Big capacity SSD with exceptionally high transfer rates utilising PCI-E interfacing.
Price:
£3500 (2TB), £1,849 (1TB) and £1,423 (500GB) RRP