World's FIRST TALKING SPACE ROBO-CHUM BLASTS OFF to the ISS
Domo arigato, Mr Roboto ... また会う日まで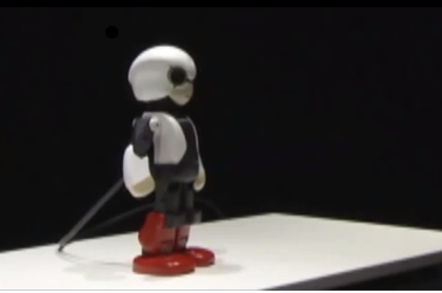 Kirobo, Earth's first talking robot to go off world, is en route to the International Space Station - and its prime directive is to tackle loneliness.
Science fiction just became science fact, as this video explained ahead of the bot's blast off:
Japanese droid Kirobo lifted off for the orbiting lab yesterday along with five tons of other supplies, the Asian nation's space agency said.
The tiny humanoid-like machine - which looks more like spritely Mega Man than the depressed Marvin the Paranoid Android - is going to the station ahead of his new friend, astronaut Koichi Wakata. The electronic pal will meet and recognise the 'naut when he arrives at the space laboratory.
Kirobo, whose name is derived from the Japanese for "hope" and "robot", and Wakata will then conduct the first human-robot discussions in space.
The robot, created by Tomotaka Takahashi of the University of Tokyo along with carmaker Toyota and advertiser Dentsu, is ultimately aimed at curbing loneliness by providing companionship.
"Nowadays, more and more people are living alone," the project's website says. "It's not just the elderly - with today's changing lifestyles, it's people of all ages. With a new style of robot-human interface, perhaps a way to solve this problem could be found. That is the goal we have in mind for this project."
While on the space station, Kirobo will chat with Wakata and will link up with its counterpart 'droid, Mirata, back on Earth.
"I wish for this robot to function as a mediator between person and machine, or person and internet and sometimes even between people," Takahashi said, according to the Associated Press.
Prior to launch, Kirobo told reporters that his journey was "one small step for me, a giant leap for robots". ®