Barbie paints Red Planet pink with NASA-approved Mars Explorer doll
Stylish take on classic space suit shuns gloves, oxygen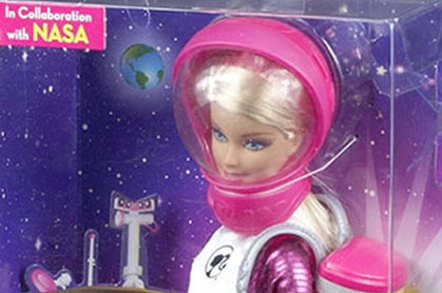 NASA's real-world space program may be mired in funding disputes, but that won't stop American toy company Mattel's iconic fashion doll Barbie from taking to the stars once more, with a new "Barbie I Can Be ... Mars Explorer" edition.
The doll, a collaboration between Mattel and NASA, was released to coincide with the one-year anniversary of the space agency's Curiosity rover touching down on the Red Planet on August 6, 2012.
This isn't the first time Barbie has suited up for space duty – far from it. Mattel has been dressing up its impossibly proportioned character in space suits for nearly 50 years, beginning with the original "Barbie Miss Astronaut" in 1965.
A second "Astronaut Barbie" was released in 1985 with a uniform decked out in her signature pink, followed by another, more subdued version in 1994. More recently, Mattel launched two versions of "Space Camp Barbie" in 1998 and 2008, in cooperation with the US Space & Rocket Center in Huntsville, Alabama. And in 2009 it rereleased the original Barbie Miss Astronaut design in a collectible recreation.
The new Mars Explorer Barbie doesn't do much to improve on the line's wobbly track record for authenticity. Her new uniform more resembles an amusing throwback to '50s-era science fiction than anything that a modern, real-world astronaut might wear.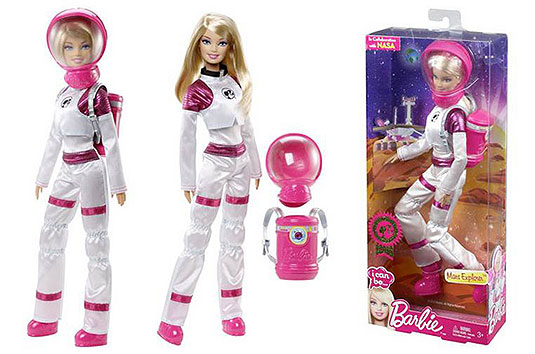 Fashion over function: Barbie's space suit doesn't do much to protect her from interplanetary conditions
The suit is a slender, non-pressurized number with no gloves, slightly flared trouser legs, and a pink bubble of a helmet to match the various pink accents on the costume. Barbie's oxygen supply comes with no hoses from which to breathe, but it does have stylish silver straps. And we couldn't help but notice that her suit seems to be lacking radiation shielding in key areas.
On the plus side, the doll does at least give a nod to the achievements of real-life astronauts. The box art includes a list of facts about US female space explorers and directs girls to the US space agency's Women@NASA website to learn more about careers in space science.
Of course, the first woman in space wasn't an American at all, but Russian cosmonaut Valentina Tereshkova, who orbited the Earth in Vostok 6 in 1963. Tereshkova's mission took place two years before Mattel would launch its original Barbie Miss Astronaut, and 19 years before US astronaut Sally Ride would become the third woman in space, after Tereshkova's fellow Russian, Svetlana Savitskaya.
The Barbie Mars Explorer edition went on sale on Monday for $12.99 in the US. ®