IT gear manufacturers trim payrolls in July
But telcos, hosters, and system designers add a lot more workers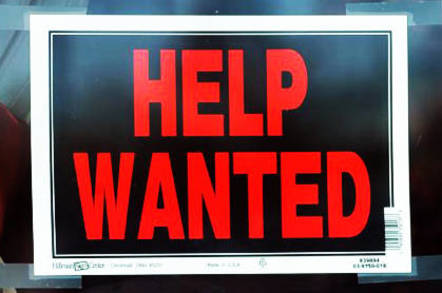 The good news in the United States is that the unemployment rate, as gauged by the Department of Labor, was down in July. The bad news is that the economy created fewer jobs than anticipated last month, and that the numbers for May and June were revised down a bit, as well.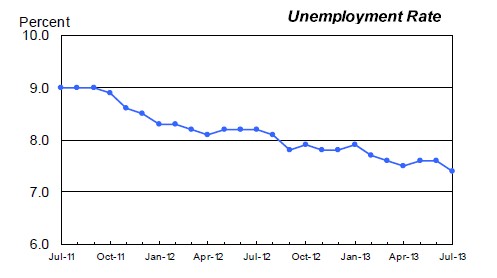 The unemployment rate dipped a bit in July in the US
The Bureau of Labor Statistics puts out a jobs report the first Friday of every month that estimates the job creation by companies and government agencies in the US in the prior month. The jobs report, which you can see here (PDF), also includes an estimate of the unemployment rate based on surveys of American households.
Based on that household survey, the BLS calculates that the unemployment rate has ticked downwards two-tenths of a point to 7.4 per cent. We have a long way to go until the unemployment rate will hit 6.5 per cent, which is the floor that current US Federal Reserve chairman Ben Bernanke has set as the point at which he will start tightening up the flood of capital he has poured in the US economy through quantitative easing.
Of course, that could take at least two years to happen, and the Obama Administration is looking to hire a new Fed chairman, so all bets are off about what will actually happen as the unemployment rate comes down – presuming, of course, that it continues to do so.
The monthly jobs report does not include data from farms, which have their own hiring and firing rhythms based on the seasons, but it does include local, state, and federal government agencies, as well as corporations. (The data is segmented by industry sector and subsectors.)
The BLS reckons that the US economy added 162,000 net new jobs in July. Economists polled by the Wall Street Journal had expected for the US economy to add 183,000 jobs and the unemployment rate to tick down to 7.5 per cent.
Over the past twelve months, the US has averaged an increase of 189,000 net new jobs per month, which sure beats losing three or four times as many jobs per month as the economy did during the early months of the Great Recession. But we have not climbed out of that hole yet, and when you consider that it takes around 200,000 new jobs a month to keep up with population growth, the economy is not making as much headway as we may want to believe here in the States. Too many people have simply stopped looking for work, and the jobs they can find are generally not as good as the ones they lost.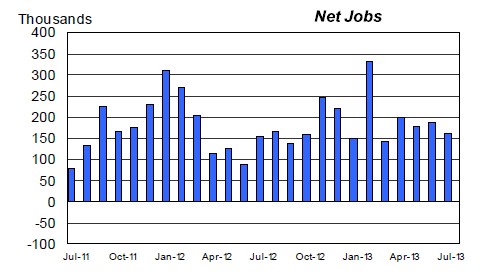 The job creation rate in the US slowed more than expected in July
In July, retailers added 47,000 jobs, and have been an engine for job creation for the past year. Ditto for wholesalers, which added 14,000 workers; the leisure and hospitality industry, which added 38,000 people; and financial services firms, which added 15,000 workers. Companies engaged in professional and business services added 36,000 new people in July, but employment at manufacturers and healthcare providers were flat from June.
As for an IT proxy, El Reg picks through the industry sector data and pulls out the most relevant bits of the raw job counts to see how they have changed month to month. (We are not looking at the seasonally adjusted data here, and this in intentional.) This is not a very good proxy for IT employment, but it is the best we can do given the data collected by the BLS.
In the manufacturing sector, computer and electronic product makers cut 2,500 workers to a pool of 1.09 million workers as July came to a close. Computer and peripheral equipment makers shed 300 jobs, to 163,000 workers, according to the BLS, and communication gear makers shed 700 jobs to 106,600 workers. Semiconductor and electronic component makers cut 900 jobs as well, and now employ 380,100 people.
The information sector, which includes all manner of content creation and distribution, also includes telecommunications and data processing services. Telcos in the States added 3,100 workers in July and have a total of 859,700 people on the payroll. Companies engaged in data processing, hosting, and related services had a total of 257,400 workers as the end of July, up 2,900 from June.
In the professional and business-services sector, the IT-related sub-sector includes companies that do computer systems design, according to the BLS. As July ended, there were a hair more than 1.7 million workers in this part of the economy, and it was up 14,000 people compared to June. In the past year, a total of 70,900 employees at computer systems designers have been added.
Of course, these are all jobs by industry, not by job title, so we don't know how many of these workers are actually involved in IT itself. Moreover, every company has an IT aspect to it, and there is no way to use the BLS data to actually gauge job creation and destruction of the IT sector across all industrial sectors and governments and across all IT job titles. This would be truly useful data, and it is data that the BLS should be gathering and distributing. ®
Sponsored: What next after Netezza?