US sales rebound for Teradata as customers run out of capacity
You can only 'sweat the assets' for about a year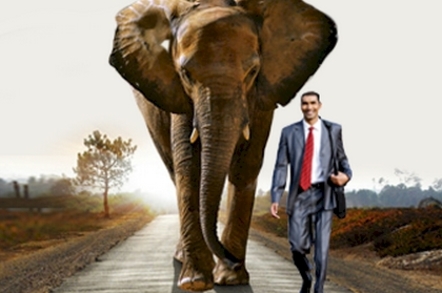 Business starting cooling off in the United States for data warehouse appliance maker Teradata in the third quarter last year, and now it is starting to pick up again as companies need to add more capacity to their systems. Teradata now thinks it can hit the low-end of its revenue guidance for all of 2013, something that was not obvious several months ago.
Teradata CEO Mike Koehler said in a conference call after the market closed on Thursday that he was not satisfied with the results that the company turned in for the quarter ended in June, but that things were looking up as business bounced back in the United States, rising 7 per cent.
Teradata did not give a precise revenue figure for its sales in the United States, but Koehler said in the call that revenues were up 7 per cent in the company's home market, and later in the call added that the US accounts for around 95 per cent of the Americas region. In the June quarter, the Americas region posted sales of $405m, up 2 per cent, and as it turns out, sales in both Canada and Latin America were down during the period.
Since the third quarter of last year, customers in the US have been sacrificing some of the performance in their data warehouses to get more queries done. And based on past trends, when customers get leery about the economy and cut back on system upgrades, they can only hold off for about four quarters.
"It started hitting us in the third quarter last year," explained Koehler, saying the slowdown was only in the United States, "and that's why earlier this year on calls, we were pretty optimistic about the second half because it will have been twelve months in the US since customers started sweating the assets, if you will."
Sales outside of the Americas region came to $265m, down 1 per cent from a year ago and lower than expected. Europe, Russia, and China all had double-digit revenue growth, said Koehler, but Japan, Australia, the Middle East, and Africa all came up short of expectations.
The deal pipeline for EMEA as a whole looks good going into Q3, Koehler explained, but Asia/Pacific-Japan "will have some challenges," as he put it. Australia is expected to rebound a bit, but Teradata is planning for relatively soft sales in Japan and for tough compares in China. Currency effects in the second half are expected to adversely impact the revenue Teradata brings back home to Atlanta from the APJ region by 10 points, Koehler said.
In the second quarter, hardware and software product sales at Teradata declined by 6 per cent to $303m. Koehler said that the triple-pronged Unified Data Architecture attack, which mashes up its Aster, Teradata, and Hadoop systems.
The idea is to use Hadoop to capture, store, and refine incoming unstructured data (telemetry from web sites and retail sites and third party data sources), and then mash it up with operational data stored in the Aster NoSQL and Teradata relational database appliances.
Aster, as Teradata has explained it in the past, is where you find the useful nuggets of information using intense analytics, while the Teradata database is where you let people run rampant doing operational queries to run the business.
Teradata does not break out its revenues by product family, so we have no sense of how each of the several styles of appliances is doing in the market – but CFO Steve Scheppmann gave a few hints.
Scheppmann said that product gross margins were down a few points, and that this was due to a lower volume of sales and product mix away from the high-end Enterprise Data Warehouse 6000 Series appliances. Teradata had fewer large deals in the quarter than it has been pulling in, these deals usually involve 6000 Series gear which has higher margins, and hence the gross profit dip.
The smaller 2000 Series appliances, which are tuned up with flash and with different configurations from the behemoth data warehouses to meet specific performance objectives, accounted for 12 per cent of the product revenue mix in the second quarter, or about $36.4m, compared to $44.9m in the year-ago quarter. So Teradata saw some softness here, too.
Revenue figures were not given for low-end 1000 or high-end 6000 series appliances.
Koehler said on the call that the Aster database appliances saw a factor of 3X revenue bump in the second quarter, which would indicate that it is indeed getting some traction, albeit from a relatively small revenue base. Teradata snapped up Aster Data Systems, which had created a hybrid row and columnar data store that was very fast at complex queries, back in March 2011 for $263m.
Maintenance services at Teradata brought in $160m in the quarter, up 6 per cent, and consulting services brought in $207m, up 7 per cent. Margins in the services business were up, said Scheppmann, because Teradata curtailed the use of outside contractors and cut back on hiring in the quarter.
Add it all up and Teradata posted sales of $670m in the second quarter, up 1 per cent, and its net income was $108m, down 4 per cent. Teradata ended the quarter with $826m in cash and equivalents, has $451m in deferred revenues on the books, and only $263m in debt.
Looking ahead, Teradata is keeping to its revenue guidance, which it issued at the end of 2012, and says that it can boost sales by 6 to 10 per cent on a constant currency basis.
However, with one to two points of extra currency headwinds coming in the second half of this year, the revenue as reported in US dollars for the full year will only grow at between 4 and 5 per cent, the company said. That puts sales 2.77bn at the low-end of the range.
Earnings per share are expected to range between $2.64 and $2.79, which is higher than the $2.44 per share it brought in against $2.67bn in sales last year. Somewhere between 8.2 and 14.3 per cent higher, in fact.
Although it is not like the boom-boom quarters of 2012 when Teradata saw sales grow by 20 per cent consistently in many of its regions, with profits growing two to three times faster than sales, that is about as good as it is going to get for Teradata right now. ®