IBM CIO's Great Refresh: No, Sales Guy, you can't JUST use DropBox
Rip XP from 500k boxes, bung software in cloud, install Ffox. Coffee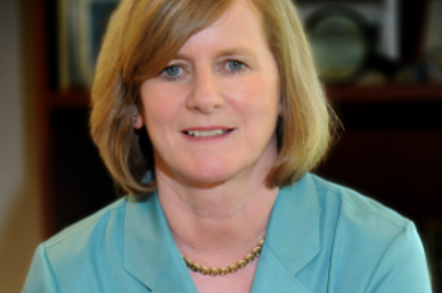 CIO interview She might be CIO of IBM, but Jeanette Horan is just like you: replacing Windows XP with Windows 7, ripping out Internet Explorer 6 and floating a growing amount of software on the cloud.
She also has to contend with staffers begging her for the ability to share information using third-party sync 'n' share apps like DropBox. Sound familiar?
OK, she's with tech behemoth IBM, so the scale is much bigger: Horan has shifted nearly half a million PCs off Microsoft's legacy OS and reckons up to three-quarters of the apps built by and for IBM - as opposed to product software - will be developed and tested on the cloud by the middle of next year.
Horan has also done that browser migration differently: rather than swap out IE6 for a later version of Microsoft's browser – as most coming off Windows XP have done – she has forsaken Microsoft entirely, for Firefox.
But there's another important distinction to Horan's job.
No, it's not that Horan is a woman working in a male-dominated profession: as of January 2012, she has actually been working for another woman – Ginni Rommerty, the chief executive and president of IBM. Nor is it that she's a Brit near the top of a US company. Horan crossed over to the US 30 years ago, joining her first company in Florida after graduating in mathematics from the University of London, ostensibly on a two-year sojourn.
No, it's that Horan is running a company's technology in that toughest of places: a technology company.
Under pressure
Running tech for IBM means more than the usual amount of pressure: pressure from being under the watchful eye of other techies inside Big Blue who reckon they know just as much about your job as you do, and "how to do it right".
There's also pressure from customers and IBM's product people, both eager to see you use the latest IBM hardware and software. And then there's pressure from management, as IBM is the kind of business that sees technology as an integral part of strategy rather than some supporting character.
The latter means Horan's on the front line of the battle to get IBM to hit management's target of $20 earnings per share by 2015 under its latest five-year plan issued in 2010. In 2010, its EPS was $13.44.
As if more pressure were needed, the revenue-generation side of IBM that would normally help it hit that EPS number is sliding. There have also been job cuts - up to 3,000. In its second quarter, IBM recorded its second revenue drop of the year - down 3.3 per cent to $24.82bn. Net income was muddied by the job cuts - down 16.9 per cent to $3.23bn to include the layoff charge.
If you add it all up, it means the CIO needs to give extra attention to automation and efficiencies to help sales and fatten up the margins. As the person responsible for IBM's tech infrastructure, applications and web presence, that means more work for Horan.
In terms of IBM's recent business performance and that 2005 roadmap, it also means she must give IBMers the right tools to work more effectively with customers; integrate any companies IBM buys into the rest of the IBM structure over the next few years; and put in place IT systems and processes that deliver smoother workflows, faster decisions and enable quicker action – in other words, help improve sales and customer satisfaction.
"It definitely does provide focus," Horan told The Reg during an interview on a brief stop at IBM's South Bank HQ in London before the Q2 results.
But the CIO eats this kind of challenge for breakfast, and she is turning it to her advantage. This is Horan's second round of IBM transformation. As the former enterprise business transformation lead, she was tasked with kicking into shape the systems and workflows running IBM's huge SAP system to simplify finance, opportunity to cash, and booking and billing systems.
She was appointed CIO in 2011.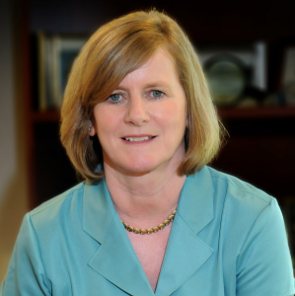 Horan: the techies' techie
Of the five-year plan, she says: "It's been a good way to align the company behind a set of strategic objectives. "One of the things that's true for any IT shop is the demand from the business is more than our capability to deliver – that's standard. So it has provided us a way to help in our prioritisation and focus on projects that are aligned to that roadmap."
Building apps for Big Blue
One of the biggest projects Horan is working on is a joint effort between the CIO team and IBM's marketing and communications bods: the IBM Expertise application. It is being put togther using IBM Connections Profiles and Expertise Assessment together with the Expertise Locator and Answer Network (ELAN), acquired when IBM bought Kenexa in December 2012. The idea is to help IBMers quickly find experts in a field using simple keyword searches. The app's considered important in a company with more than 400,000 staff.
It's typical of the kind of work Horan says she's doing more and more of these days: building front-office apps instead of back-office systems. The CIO said her devs are now working more with sales and marketing types than with sysadmins or other fellow techies in the server room.
The CIO said app development reached an important milestone in 2012: that's when 51 per cent of her IT spend on new projects went on front-office – and new back-office software officially became the minority. Horan expects the trend will grow as sales and customer-facing IBMers want what the tech head describes as "more social" in their apps and transactional processes.
"We are looking at how to build more social integration capabilities between us and our clients – not just the broad push of messages, but a more collaborative working environment with our clients, that's another thing I'm hearing about," Horan said.
"We have a number of integrated accounts – big accounts – that IBM has with very big relationships, and we have dedicated account teams that work day and day out with those clients. We have a lot of pull from those account teams who say: 'We want to be able to interact with our client in a different way and to share more information. Why can't we just use Dropbox?'
"I can give them the reasons they can't, but I need to give them an alternative, and bring them something that brings more value than just using a third-party service," she said.
Sponsored: Detecting cyber attacks as a small to medium business