Benchmark bods reckon NetApp storage has the edge over Isilon
Analysts rate FAS arrays as numero uno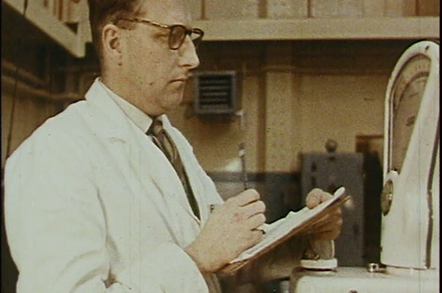 Analyst outfit DCIG rates NetApp over Isilon for private cloud storage. Which comes as a bit of a surprise to The Register's storage desk.
DCIG produces buyers' guides and then sells the rights to distribute these guides to vendors. This raises a suspicion that top-ranked vendors have somehow influenced their position in the guides' rankings; a suspicion that DCIG is at great pains to deny.
In its latest 2013 Private Cloud Storage Array Buyer's Guide, a refresh of its 2011 Enterprise Scale-Out Storage guide, it asserts that:
• No storage vendor paid DCIG any fee to develop its Buyer's Guide
• DCIG did not guarantee any storage provider that its private cloud storage array would be included in its Buyer's Guide
• Previous relationships did not influence the research, scoring or ranking of features and products evaluated in the Buyer's Guide
• All research was based upon publicly available information as well as information provided by the storage vendors themselves
• Because of the number of features analysed, how these features were weighted and how each private cloud storage array was scored and ranked, there was no way for DCIG to predict at the outset how the product or product family would end up scoring or ranking at the end
• No storage provider was privy to how DCIG did the scoring and ranking of the private cloud storage features. In every case, the storage provider only found out the scores and rankings of its respective private cloud storage array model(s) after the analysis and research was complete
The last point must have made for some interesting conversations between DCIG and the vendors!
That being said, the rankings themselves were: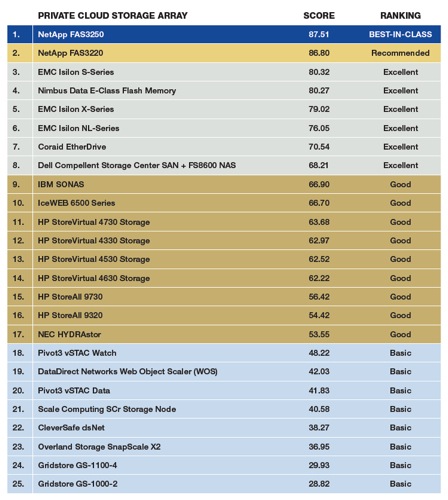 Click on the table for a larger version.
Isn't this a surprising table? Two mid-range NetApp arrays come out on top. Three Isilon arrays are split by upstart all-flash array start-up Nimbus Data's E-Class array, and Coraid's EtherDrive is in seventh place ahead of a Dell Compellent Storage Center array. IBM's SONAS trumps all the HP arrays, as does an IceWEB 6500 product.
NetApp gets to its top position because of its ONTAP management software, vSphere integration, deduplication and SSD support. But when it comes to EMC's Isilon the report says:
EMC Isilon models merit strong consideration for their ability to deliver the exact type of private cloud storage solution that an organisation needs, as EMC Isilon, with its NL-Series, S-Series and X-Series, can be configured to handle capacity intensive applications, performance intensive applications and general purpose workloads in Ethernet only environments.
Nimbus Data gets its high ranking due to:
...its combination of a unified NAS/SAN architecture combined with strong management software and nearly complete vSphere integration.
DCIG recommends potential customers investigate Nimbus Data's support arrangements.
The unexpected inclusion of Coraid is described thus:
Coraid is the only vendor in this Guide to utilize ATA-over-Ethernet (AoE) as its transport protocol of choice. Coraid offers AoE based on the high levels of performance that it offers in Ethernet environments that require high-resiliency or multi-pathing. DCIG does encourage any users considering this solution to first familiarize themselves with the AoE protocol as well as recognize that no other major storage provider formally supports this protocol.
DCIG has this to say about Dell Compellent:
Dell's management software still lags management suites from other providers and the Compellent Storage Center does not support any cloud storage providers and leverages what is in essence a NAS Gateway (the FS8600 NAS) to deliver file sharing.
The guide explains the fall from grace of previous top-scoring HP IBRIX X9000:
The HP StoreAll 9000 series, formerly known as the HP IBRIX X9000 and which took top honors in the prior DCIG 2011 Enterprise Scale-Out Storage Buyer's Guide, fell to the middle of the pack along with its HP StoreVirtual 4000 series of private cloud storage arrays. The HP offerings, as well as the offering from IBM, were both heavily affected by this Buyer's Guide's heightened focus on virtualisation. This refresh of the Buyer's Guide also placed additional emphasis on management and flash memory technologies.
Get the guide for no charge from here, after filling in a registration form. ®