Move over, Freeview, just like you promised: You're hogging the 4G bed
Digital TV tosses and turns as UK cleared for high-speed mobe internet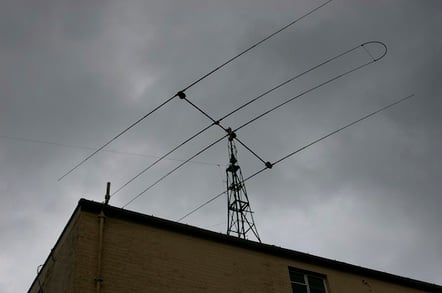 Today, the last Freeview transmitters will be relocated out of the bands that were sold off for 4G telephony earlier this year. The whole shift has happened ahead of schedule, which means that by the beginning of autumn, EE's monopoly on next-generation telecoms will come to an end.
The bands, which were auctioned off early this year, were cleared by the switch to digital TV which proved unexpectedly smooth thanks to cheap set-top boxes.
Digital TV fits into the middle of the space where TV analogue once was, but the phased switch-off left some (Scottish) DTV transmissions at the top of the dial. On Wednesday, the final few will shift to their final home.
A516Digital.com has a list of the transmitters in question, and their final destinations, though it's only the Highlanders who need worry - and even then, it just means retuning the box to Freeview's final home.
Only it's not the final home of the free-to-air digital terrestrial TV service; it's merely a space where it can live until 2018. Ofcom would like Freeview shuffled down the dial into the bottom of the analogue TV band, which has proved hard to sell. That would release the 700MHz band for even more 4G telephony, to the delight of network operators - and the chagrin of DTV viewers who'll have to retune yet again.
But only until 2020, when Ofcom starts billing Freeview for the frequencies it uses. That bill will start low but ramp up to £240m a year by 2025, a figure which will make video-on-demand a good deal more attractive.
But that's all for the future. The current migration is ahead of the original schedule, though it has slipped a month from the most optimistic projections from last year. The switch to digital was unprecedented, so generous allocations of time and money were made against unforeseen circumstances which ultimately did not manifest.
Set top boxes dipped below a tenner in price, and customers welcomed greater choice and the end of the snowstorm - even if some lamented the disappearance of graceful degradation and the temporary loss of stereo (NICAM) sound, so the migration went quicker than anticipated.
Ultrafast is the new, er, 4G
Which is good news for O2, Vodafone and Three, who are all planning to launch 4G services in those bands before the autumn. Three has said it won't be using the "4G" moniker as it's all but meaningless these days, so it will be branding its new service "Ultrafast" instead. Vodafone also seems to like the term as its sponsored racing car is now emblazoned with "Ultrafast 4G" branding.
That Vodafone car left EE rather riled up, and last month it apparently demanded that Vodafone stop using the term while its own UK monopoly was still in place. But Vodafone reckons the launch is close enough, and the car kept its paint job.
EE's 4G network runs in the old 2G bands at 1800MHz. O2, Vodafone and Three will all have networks at 800MHz, which should offer greater range and thus better coverage.
800MHz also has the broadest handset support, as it's expected to be used widely across Europe. GSM Arena lists 51 handsets usable on the new networks, while 48 will work on EE's existing 4G network and 44 run all the way up to 2.6GHz.
There was talk of Three and EE sharing some bands to their mutual advantage. The companies already share 3G infrastructure, though not frequencies, but it seems that was a step too far as talks broke down.
BT and EE tested frequency-sharing down in Cornwall, at 2.6GHz, and proved they could amicably coexist in a trial which paves the way to future agreements - if not immediate deployments. For the next few years the operators will compete on headline speeds and coverage, with the usual handset exclusives and badmouthing of the competition. Around 2017, coverage will reach 98 per cent of properties, promises Vodafone, although O2 has a licence obligation to reach 98 per cent of people — at which point network sharing becomes more likely.
That's also the point at which the more interesting capabilities of LTE (the 4G technology of choice) might begin to be used. Cheap rate data in the evenings, priority access for higher-paying customers, data bundled with application purchases, all of which is possible now but won't happen until the networks are comfortable with their 4G deployments.
At that point, Freeview will be on the move again, and the whole cycle starts once more. ®
Sponsored: Detecting cyber attacks as a small to medium business