Cloud upstart ProfitBricks tries to undercut Amazon on price
Grocery store takes on Walmart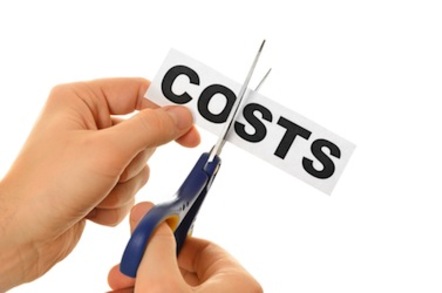 Instead of being drenched by Amazon's cloud, cloud infrastructure biz ProfitBricks is trying to get out in front of the hardbacks'n'hosting monolith and lower its prices before Bezos & Co initiate another price drop.
In an attempt to tempt customers away from major cloud operators, ProfitBricks' new on-demand server prices are below Amazon's per-hour prices by as much as 45 per cent, the company announced on Wednesday.
Under the new pricing schemes the cost of renting a one-CPU, 3.75GB RAM, and 410GB storage server from ProfitBricks has fallen to $0.1044 per hour, versus $0.12 for an equivalent system on Amazon, or $0.29 for Rackspace.
The IT gear is handy for devs in need of some hardware for ephemeral, short-term projects, as ProfitBricks does not offer pre-payments, reserved instances, or long-term contracts, unlike Amazon.
Buying the same Amazon instance under a one-year medium utilization reserved instance contract will work out to a per-hourly cost of $0.042 $0.076 factoring in the $277 upfront cost and assuming full utilization – far, far below ProfitBricks.
"Our experience is that not many customers like to use reserved instances," ProfitBricks' co-founder Andreas Gauger told The Register. "The customers come to cloud providers to have the flexibility to scale up and down however they need to, and [to] be more agile with their business without not really predictable server investments."
Where ProfitBricks' pricing becomes more compelling is on instances with masses of storage, with the company claiming a price advantage of up to 45 percent versus Amazon.
The company is able to do this via its hardware stack, which consists of Supermicro servers, Mellanox Infiniband hardware, Seagate Enterprise disks, and Juniper routers, a spokesman told The Register.
"Our technology is free of external licence fees or write-offs from technology acquisitions, it is based on state of the art technology such as Infiniband that gives us a head start in performance against legacy technology typically used by cloud computing 1.0 companies," Gauger added.
We would note that the companies ProfitBricks is trying to out-price – Google, Rackspace and Microsoft – operate data centres generally free of these licence fees and write-offs.
With around $10m invested into IT gear across two colocation facilities in Europe and the US, ProfitBricks' infrastructure is dwarfed by that of the main cloud providers, all of whom spend hundreds of millions of dollars a year on IT gear.
But by coming in at lower prices than them, the company thinks it may tempt some price-sensitive developers away.
"We are not taking on the cloud incumbents, just their pricing. If the incumbents decide that gross margins at around 80 per cent and above are what they want from their customers, it is just a plain business decision to be fine with a lower gross margin," Gauger concluded. ®