Panasonic claims world's first ReRAM-equipped product
Non-volatile RAM debuts in tiny packages, helping sensors to remember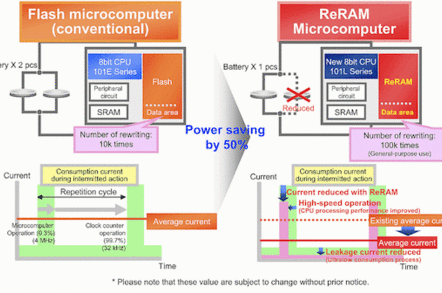 Panasonic has claimed it will next month ship the world's first computer product that use ReRAM.
ReRAM has folks excited because it is as fast as RAM, but like flash memory retains information when powered down. Also known as Memristor RAM, a nod to the fact it combines the properties of a resistor and memory, the technology is keenly watched by many because it promises the chance to build devices that need only one type of storage. That ReRAM will also be faster than NAND flash and use less power means mobile device makers are more-than-interested in the technology, as its potential to extend the battery life of smartphones and fondleslabs is obvious.
Numerous parallel ReRAM development projects are in progress around the world, but Panasonic's canned statement insists it is the first to get the kit into production "in a microcomputer".
That microcomputer is the MN101LR series, a device intended to land in environmental sensors, healthcare monitors and fire alarms. Panasonic says it will make a million of the boards a month, as of August 2013, so there's clearly demand for better performance in such applications today.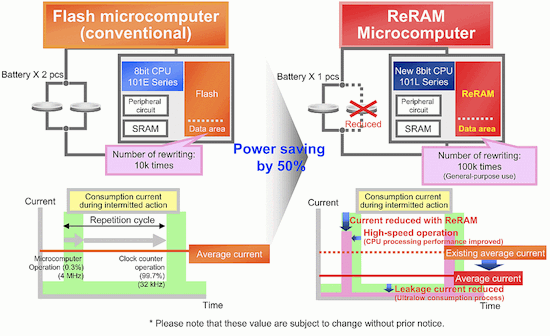 Panasonic's illustration of how ReRAM benefits electronic sensors
But today's announcement cannot be seen as a sign ReRAM is ready for prime time and will soon make a difference in more mainstream applications. The Reg makes that suggestion because such applications need rather more memory than the 64kb of ROM and 4kb of RAM Panasonic advises are on offer in its new boards. ®
Sponsored: What next after Netezza?