And the new ISP for US Starbucks stores is ... Google?
AT&T ousted in nationwide Wi-Fi upgrade plan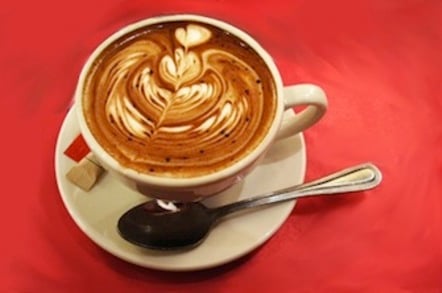 Coffee mega-chain Starbucks has announced that Google will replace AT&T as the internet service provider for its company-owned stores in the US.
The move marks a significant step forward for the Chocolate Factory as an ISP. Previously, Google only provided internet access for a limited number of Google Fiber cities, plus a small pilot program in nearby Palo Alto, California.
Under the new partnership with Starbucks, Google will provide Wi-Fi connectivity to all of the milky beverage vendor's company-owned stores across the US over the next 18 months, according to a blog post by Google Access general manager Kevin Lo.
Exactly how many stores that is isn't clear. Google says it's 7,000. A separate press release from Starbucks says it's more than 7,000. A quick peek at Starbucks' most recent quarterly report reveals that it is operating 7,958 company-owned stores in the Americas, as of June 30, 2013. Independent licensees own an additional 5,195 stores, which are not part of the deal with Google.
Starbucks says Google will work with telecom provider Level 3 Communications to upgrade both the internet and wireless connectivity at participating locations, which will result in network speeds as much as ten times faster than the current equipment offers.
And, says Lo, "If you're in a Google Fiber city, we're hoping to get you a connection that's up to 100x faster."
Newly opened Starbucks locations will be the first to get Google's faster network, beginning in August. Existing locations will then be upgraded in stages over the next year and a half. As with Starbucks' current network, the upgraded network will be free for Starbucks customers to use with no time restrictions.
There was no word on what money might have changed hands to make the partnership happen, why AT&T got the boot, or what Google might stand to gain by wiring up coffee shops. Whether the Chocolate Factory might have any more such partnerships in the works with other companies is anybody's guess.
"Google has always invested in projects that help the Internet grow stronger, including projects that make Internet access more affordable and more widely available," Lo said. "We hope that speedier Internet will make the time customers spend at Starbucks even more enjoyable and productive." ®