Dell committee says 'no way' on takeover vote change
Willing to extend the vote deadline on a sweetened deal, however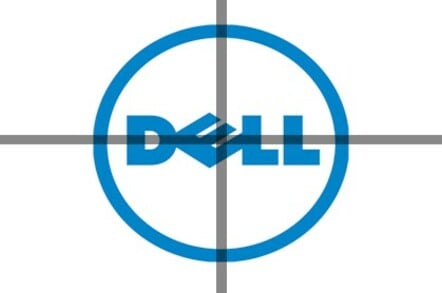 The special committee of Dell board members that is reviewing the two proposals that will decide the fate of their company have told the Michael Dell/Silver Lake Partners consortium that they are not willing to change the voting rules, as the consortium had requested.
And so the ongoing saga of Michael Dell's attempt to take the company that bears his name private continues.
However, the committee did say that it is willing to give Big Mike & Friends more time to sell their slightly sweetened deal without the rule change.
Dell shareholders were supposed to give a thumbs-up or thumbs-down to he Dell/Silver Lake deal last week, but the committee put off the vote to until August 2 to give it time to consider a "best and final offer" from the company founder and his bankers.
Dell was willing to raise his bid by a whopping 10 cents to $13.75 per share – to $24.6bn – but only if the committee would change the way shares were counted. Under the original deal, any unaffiliated shareholders that abstained from the vote were counted as no. Big Mike & Friends wanted the rule changed so only the votes turned in were counted, and abstentions were ignored.
In a close vote – the deal is balanced near the middle and could go either way – this change in the rules would make the deal pass even though the majority of shareholders did not approve it.
Predictably, Carl Icahn – who put together a leveraged recapitalization plan for Dell that keeps it a public company – made a lot of noise about how this rule change was unfair. And it is. One could argue that it never should have been done this way to begin with – and that is what Dell, the man, argued late last week.
But the committee handling the takeover and leveraged recapitalization proposals, and which decides when the vote on the Dell/Silver Lake deal will be held, said in a statement on Wednesday it would not change the rules, but it would give Big Mike & Friends more time:
The Committee is not prepared to accept your proposal. We are, however, willing to establish a new record date for a vote on a $13.75 per share transaction under the existing voting standard. A new record date would enable the many shareholders who bought their shares after June 3, 2013 to vote on the transaction while giving all shareholders more time to reflect on where their best interests lie in light of the improved offer.
This possible extension, which will have to be accepted before the vote on August 2, will no doubt stir up Icahn and any other shareholders that just want this to be over with.
Back in February, Dell – the man – worked out a complex deal with Silver Lake, Microsoft, and a bunch of banks to buy Dell for $13.65 per share, which works out to $24.4bn. Dell is rolling his own 13.86 per cent stake (worth about $3.2bn) into the deal as well as ponying up $750m in cash and equity from his own private firm, MSD Capital. The deal also has Silver Lake kicking in $1.4bn, Microsoft loaning the consortium $2bn, plus a bunch of Dell's cash on hand and loans from Bank of America Merrill Lynch, Barclays, Credit Suisse, and Royal Bank of Canada Capital Markets totaling $13.75bn. The remaining $4bn or so will come out of the coffers of Dell, the company.
Icahn is working with Southeastern Asset Management, which also has a big stake in Dell, to do a leveraged recapitalization of the company that will buy back chunks of the stock for $14 per share and also sell off a few billion dollars in assets to help pay for it. Icahn has sweetened his deal with special warrants that will allow shareholders to sell stock at $20 a pop over the next seven years, which he says raises the value of his deal to somewhere between $15.50 and $18 a share. (The amount depends on when shareholders get rid of the stock.)
The Dell/Silver Lake consortium is said in many press accounts to be reluctant to raise its bid, and the measly extra dime per share that it offered in conjunction with the rule change just goes to show that.
It seems likely that the original deal will be the best and final offer and that it will be put to a vote on Friday morning, and it is looking like shareholders will reject that deal. Once that happens, expect Icahn to launch a proxy battle to remove the Dell board and try to implement his plan.
If that happens, Michael Dell will be out of a job – but with $12bn in assets in his equity firm, there are worse things that could happen to him. ®
Sponsored: Practical tips for Office 365 tenant-to-tenant migration