CSIRO, Macquarie University, on helium-saving crusade
Voice-altering fun soon to be available with recycled gas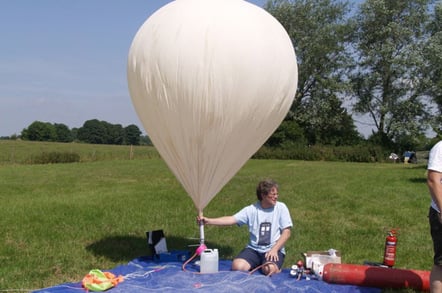 Rather than sending out dire warnings about the dangers of party balloons wasting helium, it's probably better to stem the losses from the world's largest users. That's the approach being taken by the CSIRO and Sydney's Macquarie University.
Cryogenics, as The Register noted here, is a big consumer of helium. In 2005, the US government estimated that application to represent more than 3,800 metric tonnes annually, worldwide.
That kind of consumption, combined with a similar amount getting run through rocket motors (to purge the super-cold systems), puts the demonised party balloon quite in the shade, so it makes sense for helium to be recovered from systems wherever possible.
In a pilot project for helium recovery, CSIRO and the ARC Centre of Excellence in Cognition and its Disorders – CCD for short – are going to work together to develop an onsite helium recovery and reliquefication system.
CSIRO Chief of Materials Science and Engineering Dr Cathy Foley told The Register America's sell-off of its helium reserve, under a plan designed to eliminate the reserve's operating deficit, has kept helium prices artificially low in recent years.
While that's been good for medical and other research, it's also encouraged bad practice of letting the helium used (for example) in an MRI machine to "boil off into space" (literally, since as a lighter-than-air gas, it escapes the atmosphere with ease). Those bad practises, she said, will run into a crunch as prices normalise.
Dr Foley said it's feasible that prices could rise tenfold – putting a premium on recovery and re-use of the gas.
While capture of helium at the source (that is, where it's being used) isn't too difficult, she said, the process of reliquefication has until recently demanded large and very expensive refrigeration facilities, with highly specialised operators, making release cheaper than recycling.
The more recent development of electric coolers suitable for onsite recovery marks an important development in the recycling of medical helium. At Macquarie, the "boiloff" from magnetoencephalography (MEG) is captured in pipes and taken to the onsite recycling facility. There, it's compressed, purified, and reliquefied for storage – and since it's designed to be a leak-proof system, the MEG's 200 litre weekly consumption of the $30/litre liquid could be cut to near zero.
The facility will also serve as something of a pilot for other high-consumption activities. ®
Sponsored: Detecting cyber attacks as a small to medium business