Google menaces Apple's 3-year-old toddler with its cheap stream tech
Chromecast VS AirPlay: Game on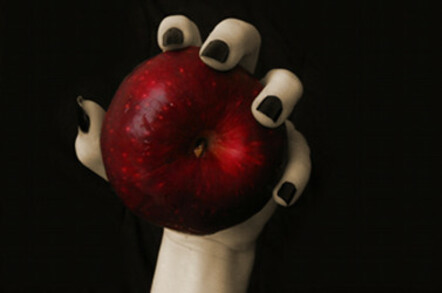 Comment For years in PCs, Apple was the R&D lab for the entire industry, and Microsoft would roll out similar operating system features long after Apple users had them as standard.
As a result, Microsoft users would get a feature late. It would also usually be offered in a less adventurous manner – and while sometimes it was weaker than the Apple offering, sometimes it avoided its mistakes.
This role has now been taken by Google and Android, and it doesn't have to look too far from the Apple product line to see its next innovation. So it's not that much of a surprise to see something remarkably similar to Apple TV, and in particular, Apple's AirPlay vid-streaming tech - only cheaper - coming out of Google.
The Apple TV/AirPlay pairing was tablet-driven and shared across its partner eco-system, and this format has been closely followed by Google. The company is now offering a Wi-Fi attached HDMI stick that can catch any Google Chrome browser stream from any device – potentially including the iPad – which runs a Chrome instance.
So you can even flick your video content or YouTube or Netflix content at your TV screen, and still run a second browser tab with your private thoughts, your texts, your homework, Instagram, Facebook or anything else you want, which is NOT seen on the TV.
The price is all important at $35 and although it's out in beta, it will sell in the millions, not so much to make money of itself, but increasing the brand-effectiveness of Nexus and Google generally, and catching up some of the three years since Apple TV with Airplay was first released.
Since then Intel has introduced the very expensive WiDi chip to do the same thing, and Miracast has come from the Wi-Fi community, and we even have AirFlinger from Israeli startup TVersity which throws content through set tops. But at $35 a time and given its portability and Google pedigree, this looks like one of the instances where Google has outdone the original with the Chromecast introduction.
At present Chromecast works with Netflix, YouTube, Google Play Movies and TV, and Google Play Music, and there are more apps like Pandora due soon. The key that everyone is saying is that unlike Apple TV, which is Apple to Apple only, this is Google to any TV.
Now that's not strictly true – because this is Android to a proprietary device, or rather Chrome to a proprietary device, just as proprietary as Apple's but rather more affordable, but more to the point, portable.
If you happen to have your Chromecast HDMI stick on you and you take your phone to your friend's house, you can play your games (although the latency is too great to play reaction-sensitive games) and watch your Netflix account with your friends.
We're not so sure that Apple TV is something you put in your pocket just in case, and anyway, at $35 your friend will have their own Chromecast, so just take your Android phone.
Google says that it works across platforms — Android tablets and smartphones, iPhones, iPads, Chrome for Mac and Windows - so whatever your personal device, it can also be your remote control. But only because each one of these can have a Chrome browser.
Of course it also makes it simple to use all that video and those pics that you and your friends have collected and usually thrown up to Facebook pages, on any TV site.
At the same time Google has announced a new version of the Nexus 7 tablet, running the new Android 4.3, developed with Asus, and it comes with a new, higher resolution screen. It's lighter and has longer battery life, with stereo speakers and virtual surround sound with Google Play Games built in. Priced at $229 with a 7-inch screen, and with this dongle, it could develop some fans fairly rapidly. It's available in the US in a week, but this time it's not only available on Google Play, but also at all major retailers - Best Buy, Gamestop, Walmart, Staples, Office Max, Office Depot, Amazon, Home Shopping Network, Radio Shack, J&R and B&H Photo. Another Nexus 7 with LTE support will be available in the coming weeks at T-Mobile USA and Verizon.
The Chromecast device is already available on Google Play, Amazon and BestBuy.com and Google is offering three months of Netflix free with the device.
In future Google expects the Chromecast technology to be embedded in plenty of its partners devices, and more applications are guaranteed because it is offering an SDK to its developers to use the capability. Apple relies on being able to do things within its architecture that others cannot do across multiple architectures – so Apple has to begin innovating again... and soon.
Copyright © 2013, Faultline
Faultline is published by Rethink Research, a London-based publishing and consulting firm. This weekly newsletter is an assessment of the impact of the week's events in the world of digital media. Faultline is where media meets technology. Subscription details here.
Sponsored: How to Process, Wrangle, Analyze and Visualize your Data with Three Complementary Tools