Google's new Chromecast spills its simplistic guts
'Pure simplicity' innards fuel Chocolate Factory's quest for 'TV domination'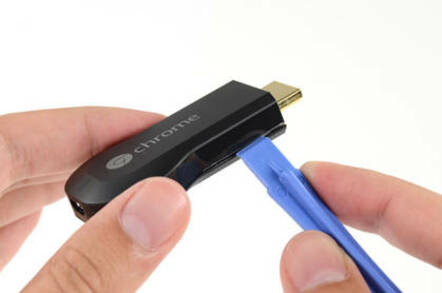 Teardown Google's li'l Chromecast media-streaming HDMI dongle is certainly getting a lot of attention for a 35-buck, one-trick pony.
Announced on Wednesday and given its Reg review on Thursday, Chromecast has left one admirer "pretty blown away," was praised for its "pure simplicity" by another, called a "cord cutter's dream" by a third, and said to possibly presage "Google's domination of TV delivery" by a fourth.
The tool vendors and teardown artists at iFixit have another take. "The Chromecast is essentially a luxury item with a limited use," they write in their Chromecast teardown, published Friday.
"Best hope for this little guy: after a long, fulfilling life of streaming kitten videos," they write, "the Chromecast is recycled responsibly."
The truth – especially if the tiny device is embraced by the developer community – is likely somewhere in between domination and responsible recycling. In any case, iFixit's teardown does give a sense of that "pure simplicity" comment mentioned above.
After easily popping the Chromecast open, iFixit found that it contained a mere two items: a shielded logic board with an HDMI plug attached, and a screen which iFixit describes as device's heatsink*.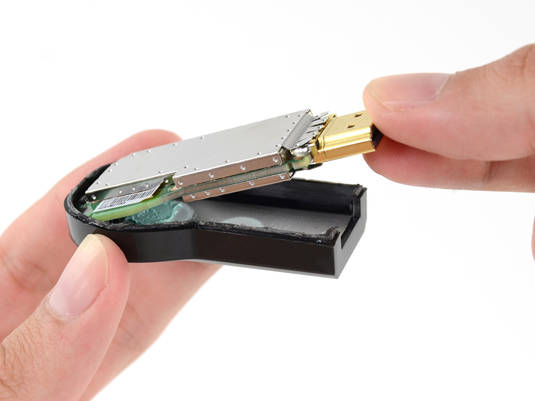 Inside Google's new Chromecast: pure simplicity (click to enlarge)
iFixit notes that Google's product info says that "Chromecast may get hot to the touch; this is normal." The hardware sadists weren't comforted by that assurance. "This is somewhat disconcerting, sort of like 'melt in your hand, not in your mouth'," they write, "or 'side effects may include death'."
And speaking of death, at this very moment one member of our Vulture Annex team in San Francisco is investigating a report of a Chromecast hardware failure – odd LED error messages and unresponsiveness. Nothing definitive or any indication that it's more than an isolated experience at the moment, but we'll keep our eyes open.
But back to the hardware. The Chromecast's logic board is, well, pure simplicity. On one side reside an AzureWave 802.11 b/g/n Wi-Fi, Bluetooth, and FM combo chip (red rectangle), and the brains of the outfit, a Marvell DE3005-A1 SoC (orange). On the flip side are a 16Gb Micron NAND flash chip (yellow) and a low-power 512MB DDR3L SDRAM chip, also from Micron (green).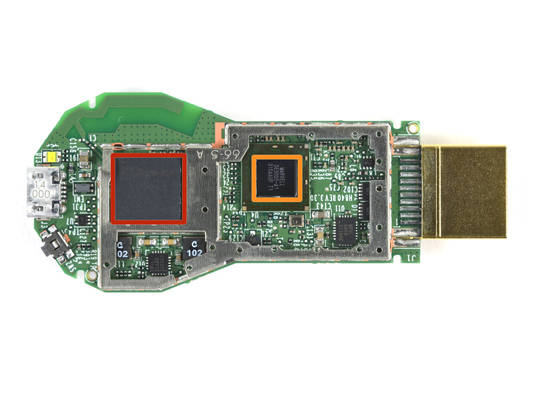 One side of the Chromecast logic board (click to enlarge) ...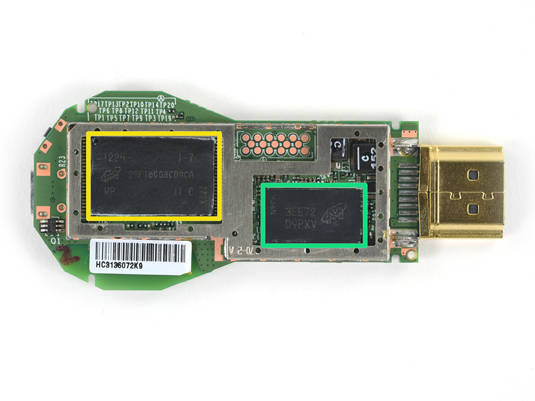 ... and the other side (click to enlarge) ...
And that, as they say, is that. iFixit normally rates the ease of repair for the devices it tears apart, but for the Chromecast they've made an exception. "We've decided not to assign a repairability score to the Chromecast," they write. "There's just nothing in it to repair."
As uneventful as the teardown was, it did clear up one mystery that we've been wondering about. In May, Google filed paperwork with the US Federal Communications Commission for a media device with a model number of "H2G2-42".
At the time, we mused, "We can only assume that designation is a reference both to [Douglas] Adam's Hitchhiker's Guide to the Galaxy franchise – which already has been immortalized at www.H2G2.com – and to the number 42, which Adams' books hailed as 'the Answer to the Ultimate Question of Life, the Universe, and Everything'."
The Chromecast's model number, as reported by iFixit: H2G2-42. "We see what you did there, Google," they write. "Your clever nerd humor will not be lost on us!" ®
* A heatsink within a plastic enclosure would not be able to function as there is no way for the heat to exit.
Sponsored: What next after Netezza?