Comet ISON seen eructating 300,000km-long methane and CO2 BELCH
Flying ice mountain trailing vast clouds of gas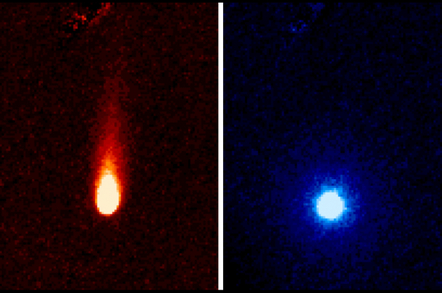 Comet ISON, the keenly awaited "comet of the century" candidate, is already blasting out huge amounts of gas and dust despite being half a billion kilometres away from the Sun, according to the latest images from NASA's Spitzer space telescope.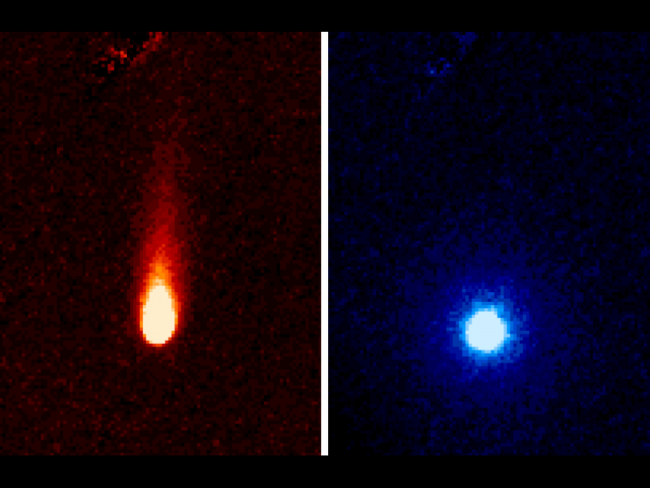 The space rock is due to pass through our solar system later this year, when boffins hope it will survive a close pass with the Sun without breaking up, providing a spectacular display in Earth's skies in November and December that could outshine the Moon. However, it could also prove to be a damp squib if the Sun roasts it into pieces before then.
The Spitzer space telescope's Infrared Array Camera has snapped pics of carbon dioxide fizzing off the back of comet, along with dust, in a tail around 300,000km long. The images were captured on 13 June, when ISON was around 500 million kilometres from the Sun.
"These fabulous observations of ISON are unique and set the stage for more observations and discoveries to follow as part of a comprehensive NASA campaign to observe the comet," said James Green, NASA's director of planetary science. "ISON is very exciting. We believe that data collected from this comet can help explain how and when the solar system first formed."
The comet is less than 5km in diameter – around the size of a small mountain – and weighs between 3.2 billion and 3.2 trillion kilograms. The huge discrepancy in estimates is due to its great distance from the Earth, which hasn't allowed NASA to make any better guesses.
ISON is a dirty snowball of dust and frozen gases like water, ammonia, methane and carbon dioxide which boffins believe are some of the building blocks that led to the formation of planets 4.5 billion years ago. It's on its way towards Earth from the Oort Cloud, a collection of comets that exists around a tenth of a light-year to a light-year from the Sun.
As the comet nears the sun, it's gradually warming up, causing different gases to evaporate and allowing scientists to analyse them.
"This observation gives us a good picture of part of the composition of ISON, and, by extension, of the proto-planetary disk from which the planets were formed," said Carey Lisse, leader of NASA's Comet ISON Observation Campaign.
"Much of the carbon in the comet appears to be locked up in carbon dioxide ice. We will know even more in late July and August, when the comet begins to warm up near the water-ice line outside of the orbit of Mars, and we can detect the most abundant frozen gas, which is water, as it boils away from the comet."
The space-rock was first discovered last September by Vitali Nevski and Artyom Novichonok at the International Scientific Optical Network (ISON), which gives the comet its name. ®