How our shaken Reg Playmonaut survived a 113,000ft stratodangle
White knuckle ride in CHAV paper plane
Before Saturday's high-altitude adventure, the entire LOHAN team gathered around the CHAV for a historic group snap, and here for your viewing pleasure are (from L-R) rocket motor botherer Paul Shackleton, custom igniter geezer Rob Eastwood, apprentice boffin Katarina Haines Barbosa, improbably lightweight tracker guru Anthony Stirk, SPEARS board wrangler Neil Barnes, hydrogen head honcho Dave "Pi In The Sky" Akerman and Paper Aircraft Released Into Space (PARIS) vet John Oates: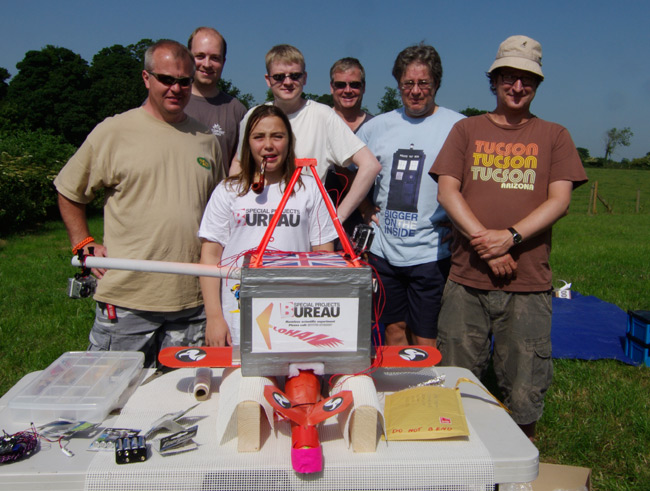 With both SPEARS and CHARM nestled in the payload box, Paul connected the igniter (indicated), and wrapped the PIC around the nylon cord holding the CHAV (pic by Neil's other half Anita Wegner)...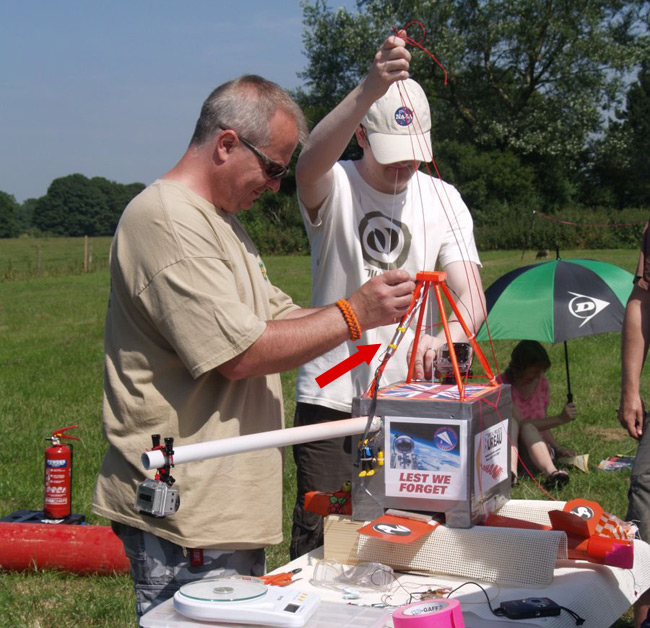 ...after which Anthony indulged in some last-minute tweaking...
...and it was onwards and upwards: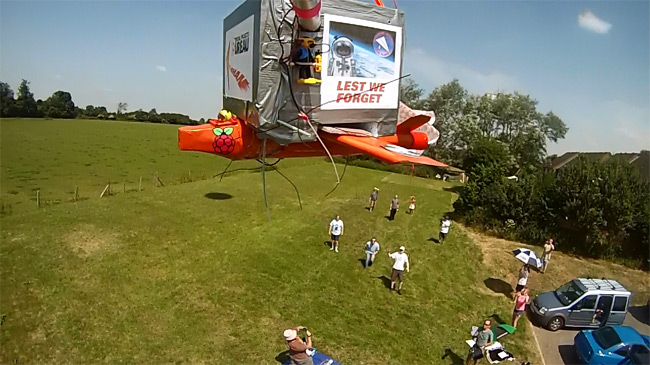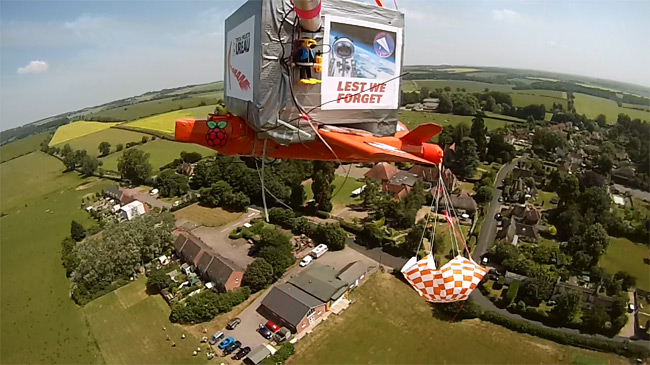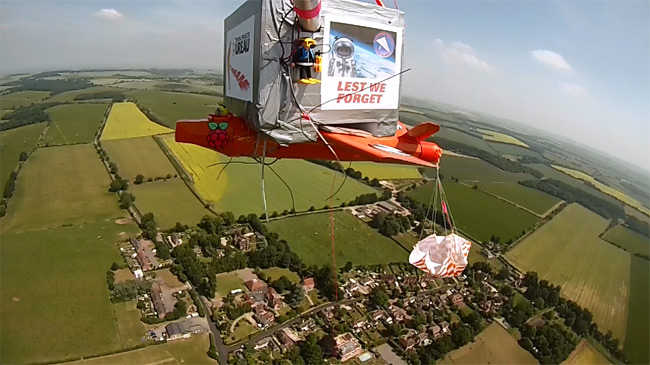 In the following still at around 18,000m (60,000ft), you can see that the static line (visible hanging below the CHAV) has wrapped itself round the parachute lines. Although the static line was attached to the top of the 'chute system by a short length of cotton thread, which would break as the CHAV dropped free and pull the static line taut, this thread was effectively bypassed by the tangle, meaning the CHAV would be left dangling.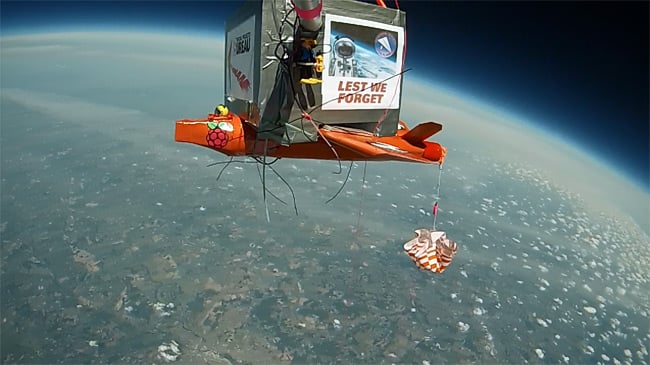 And so it turned out, but not before the igniter failed to burn through the release cord, and the CHAV finally detached at balloon burst, as the high-altitude turmoil snapped off the aircraft's steel wire attachment loop.
This must have been highly entertaining for our poor old Playmonaut, who at least got to enjoy this spectacular view at around 33,500m (110,000ft), before his day got considerably more exciting: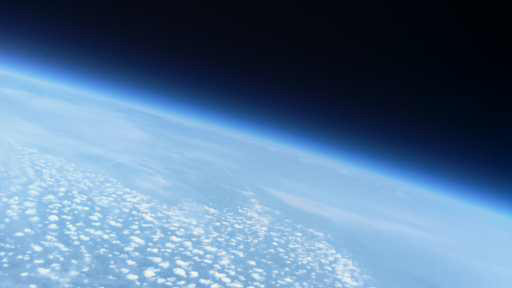 The nose-mounted Raspberry Picam worked magnificently throughout, and here's another image from the CHAV as it approached the ground just south of Perham Down on the edge of Salisbury Plain: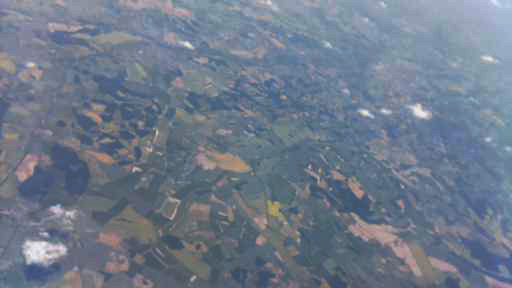 Among the last images CHAV transmitted before recovery were of the tree which cushioned its landing, and a great pic of Paul Shackleton easing the aircraft from the canopy...

...although it also grabbed a video sequence of the flight's last moments, which you can enjoy at the end of this rough cut of the flight:
The team was delighted to recover the payload, CHAV and Playmonaut...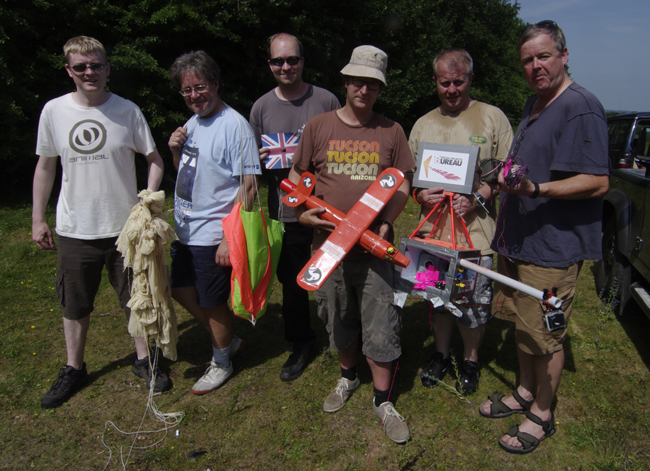 ...and the minor damage to the aircraft - a bent starboard wing-tip and a couple of small holes in the paper skin - bears witness to the robustness of its construction.
The CHAV could conceivably fly again, if our Playmonaut's willing to give it another go, but we'd probably send it aloft somewhere which doesn't require a parachute descent. We shall see...®
---
Further LOHAN resources:
---