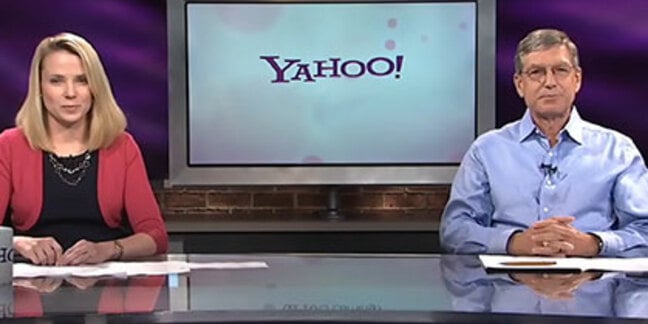 Yahoo!'s earnings for the its second quarter of 2013 roughly matched analysts' expectations, and CEO Marissa Meyer says she's "encouraged" by the company's performance. Revenue, however, continues to be a problem for the troubled firm.
It's been one year since Mayer was tapped for the top spot at Yahoo!, and to her credit a lot has changed. Net income for the quarter ending June 30, 2013 was $331m or $0.30 per share, a healthy 46 per cent increase over Q2 of 2012.
As with Mayer's previous quarter, however, a fat chunk of those proceeds – $225m, to be precise – came not from Yahoo!'s search and online advertising businesses, but from its equity holdings in Asia, including Yahoo! Japan and China's Alibaba Group.
Meanwhile, the company's overall revenues were $1.14bn, down 7 per cent from the year-ago quarter. And if you recall, revenues were similarly down 7 per cent in the first quarter compared to Q1 of 2012, suggesting a worrying pattern.
Revenue from display ads was the worst hit, coming in at $472m, a 12 per cent decline from Q2 of 2012. The number of ads sold was down 2 per cent and the average price per ad was down 12 per cent.
Search revenue was down 9 per cent to $418m on a GAAP basis, though excluding traffic-acquisition costs it was actually up 5 per cent to $403m. The number of paid clicks was up 21 per cent, too, suggesting that some of Mayer's fixes may be working. But as has been the case all over the industry, Yahoo!'s price per click was down – in this case, an 8 per cent drop since the year-ago quarter.
The company's earnings before interest, taxes, depreciation, and amortization were also down 7 per cent since Q2 of 2012, to $369m.
Those figures don't worry Mayer, however, who told investors during a streaming-video earnings report on Tuesday that turning the Purple Palace around after multiple years of decline was going to be a long process.
"It became clear that our first milestone would be to get traffic growing again, ideally reaching crossover with the previous year," Mayer said, explaining that the company is now enjoying year-over-year growth that has already erased the previous year's decline.
But before she could deliver that growth, she said, she first had to revitalize Yahoo!'s workforce – a process that included such measures as doling out free food and, controversially, instituting a ban on telecommuting. Those steps appear to be working, as Mayer said the company has already seen a 55 per cent decrease in its employee attrition rate, year-over-year.
The ex-Googler said Yahoo! is now deep into its "second sprint," which is all about improving its products and getting those all-important traffic figures up.
"We basically reached a pace of launching a new product every week, and a significant product at that," Mayer said, adding that many of those products have been for mobile devices. "Yahoo's future is mobile, and we're delivering our products mobile-first."
In addition to its user-facing products, she said, Yahoo! is also working on improving its ad technology to offer more value to advertisers. "We can do better in Display, and this is going to be a clear focus for the business," she said.
All of this is part of Mayer's long-term plan to turn Yahoo! around, which she summed up in four steps: "People, then products, then traffic, then revenue." (So that last part might still take a while yet.)
Investors, for their part, seemed mostly content with Mayer's pitch. The company's shares were down 1.68 per cent at the closing bell, but recovered most of that slump in after-hours trading to land at $27.20 per share. ®
Sponsored: Webcast: Simplify data protection on AWS