Emulex execs in boardroom-chair-swap as investors circle
VCs want shareholder payout, to absolutely no one's surprise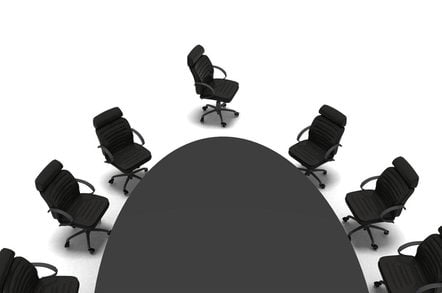 Emulex execs have performed a three-way exec and boardroom chair swap as activist investors look for ways to squeeze the company for a big payday.
Board chairman Paul Folino reverts to being a director, CEO Jim McCluney becomes executive chairman, and president and chief operating officer Jeff Benck becomes CEO and president. The accompanying canned quotery was everything you'd expect - with no reason given for McCluney stepping back from the CEO line-of-fire.
McCluney, CEO since 2006, said: "I will be actively involved in the business as the executive chairman of the board, working closely with Jeff and the management team to drive shareholder value while focusing on our long-term strategic plan. I also want to thank Paul Folino for his support and leadership as chairman of the board, and I look forward to working closely with him in my new role."
Folino said: "As the chairman of the board, it has been my pleasure to work with both Jim and Jeff on this succession plan, which has been in process for several years. As Jim transitions to his new role, I look forward to continuing my participation on the board."
Benck said: "I would like to thank Paul, Jim and the entire board of directors for their confidence and support. Emulex is well-positioned to execute on our strategic vision and continue delivering value to our shareholders. I am grateful for the opportunity to lead this great company and I am excited about our market opportunities."
There is of course the option of selling Emulex, and the company has reportedly hired Goldman Sachs to look for a buyer.
Three activist investors have built up stakes in the company following a drop in its stock price since it rebuffed a Broadcom acquisition attempt in 2009 and bought Ethernet analysis company Endace earlier this year. According to the activist investors Altai Capital, Elliott Management and Starboard, this was a terrible waste of money which should have gone to shareholders instead.
Emulex announced preliminary fourth fiscal 2013 revenues of $119m to $120m, which, at the mid-point, would mean fiscal 2013 revenues of $477.7m, some $22m down on the previous year's $501.8m.
It anticipates making an unquantified loss for the fourth quarter, on the GAAP measure. At the nine month point it's showing a loss of $670,000 so a fourth quarter loss would produce a loss-making full year, the third in a row.
A private equity firm might buy the business and sell it off in three bits: Fibre Channel HBAs, Ethernet chippery, and the Endace Ethernet analysis business. ®
Sponsored: Detecting cyber attacks as a small to medium business