El Reg Playmonaut soars to 113,000ft
LOHAN test flight ends in dramatic stratodangle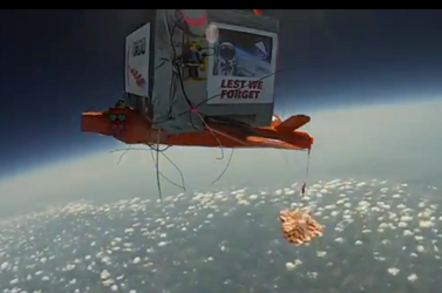 The Low Orbit Helium Assisted Navigator (LOHAN) team has just about recovered from last Saturday's successful test flight of the Special Project Electronic Altitude Release System (SPEARS) control board, which featured a dramatic attempt by our newly-recruited replacement Playmonaut to break the Paper Aircraft Released Into Space (PARIS) world record for the highest launch of a paper plane.
Since the test flight was designed to see if SPEARS would trigger the custom igniter designed to fire our Vulture 2 spaceplane's rocket motor, we decided it would be a bit of fun to use said igniter as a pyro cut-down for a new paper aircraft, dubbed the Covert High Altitude Vehicle (CHAV)*.
Here's the beast in question (before we put in the nose-mounted Raspberry Pi camera)...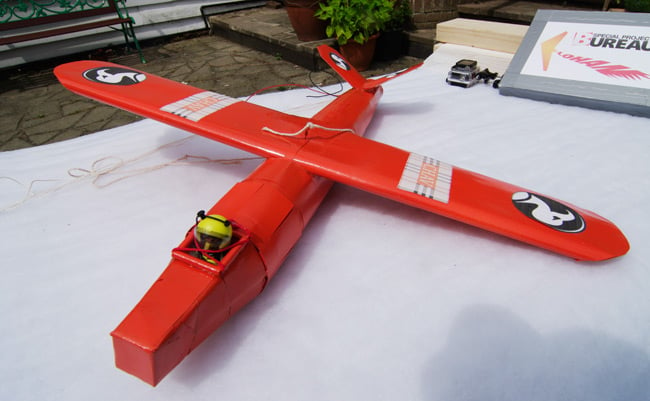 ...and here's a view of it attached to the main payload box: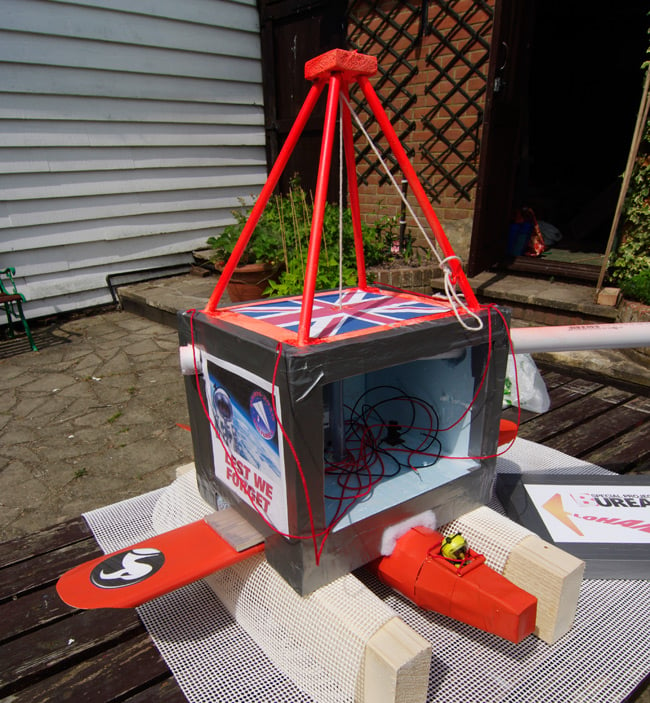 As soon as we've sifted the data, we'll bring you the full gory and entertaining details of just how the poor old Playmonaut soared to 34,571m (113,421ft), survived the balloon burst and then crashed to earth still in his cockpit with the CHAV hanging from the payload box. Suffice it to say, both SPEARS and the back-up Clockwork High Altitude Release Mechanism (CHARM) worked perfectly, although there was an issue with the igniter, which prompted the white-knuckle stratodangle.
To whet your whistles while we get some in-depth coverage sorted, here's a rough vid comprising stuff from the main payload camera, and then some great footage from the Raspberry Pi camera - mounted in the CHAV's nose - as the flight ended four metres up a tree at 51.23172, -1.63336, just south of Perham Down on the edge of Salisbury Plain:
Finally, here's the LOHAN team after the recovery, and it's hats off to (from L-R) Anthony Stirk, Dave Akerman, Rob Eastwood, John Oates, Paul Shackleton and Neil Barnes: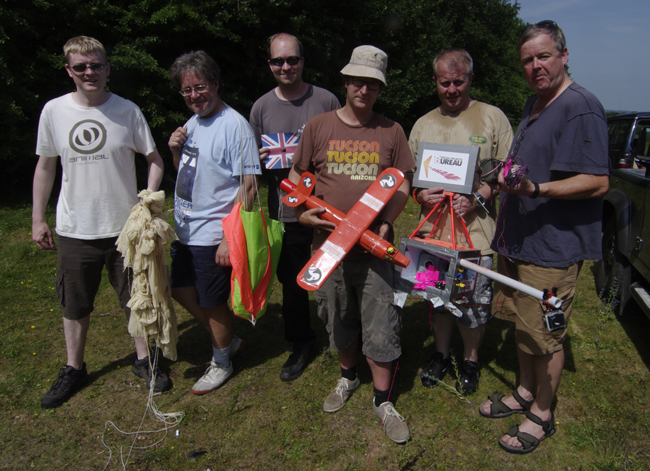 Good work chaps. ®
Bootnote
*So named because it was designed and built under conditions of utmost secrecy, lest rival US paper plane teams got wind of it.
---
Further LOHAN resources:
---

Sponsored: Beyond the Data Frontier