NBN Co CEO Quigley retires, won't deny he was pushed
Head of Australia's broadband project says now's the right time to leave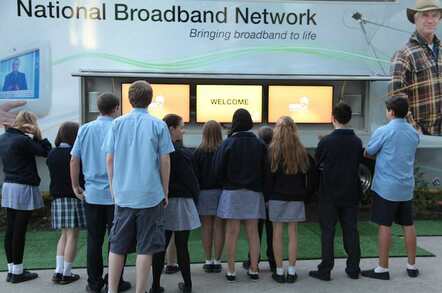 Mike Quigley, the founding chief executive officer of NBN Co, the company set up to build Australia's national broadband network (NBN), has announced he will "retire from corporate life ".
In a canned statements, Quigley said the following:
"My job was to lay the foundations for the NBN for the next 30 years. That job is largely complete. NBN Co is now a well-established wholesale telecommunications company with a nationwide workforce, delivery partners, infrastructure agreements, complex IT systems and more than 40 retail customers which are supplying fast, reliable and affordable broadband to a growing number of Australians.
On a later conference call, Quigley did not directly answer questions about whether NBN Co's Board in any way determined the timing of his departure, saying only that he feels the time is right to depart because he's completed the job described above and NBN Co has hit targets that he thinks represent significant milestones. He also said he's spoken to new Communications Minister Anthony Albanese, who's been in the job less than two weeks, and let him know he planned to retire.
But opposition Communications spokesman Malcolm Turnbull doesn't believe Quigley has retired of his own accord, and has alleged he was dismissed in the tweet below:
revolving doors at #NBN Co just as there are in the Labor caucus. How can project be a success when CEO gets fired?

— Malcolm Turnbull (@TurnbullMalcolm) July 12, 2013
Turnbull's since tweeted that he feels there was "A lot more push than jump in this departure."
Under questioning from The Register, Quigley would not respond directly to Turnbull's charge, sticking to his line that he feels now is a good time to go because NBN Co's foundations have set and the company is moving into a new phase of operations. He also explained that he started to discuss his eventual departure from the CEO's chair many months ago, having done so when Harrison Young was the company's chairman. Young finished that role in mid-March, 2013. Quigley said those discussions were the kind of thing a prudent CEO does so that Boards can conduct proper succession planning.
But Quigley did not deny that the decision was not entirely his own, despite direct questioning to that point. It's therefore not hard to construe Quigley's decision as having other motivations. Other media have reported NBN Co Chair Siobhan McKenna wanted him gone. The departure of Stephen Conroy from the Communications portfolio deprived Quigley of a key ally. And Turnbull has previously stated he thinks Quigley is the wrong man for the job. Quigley was nonetheless magnanimous on Turnbull, declaring his alternative NBN plan impressive and worthy of further consideration ... but that such consideration would mean "very detailed work would need to be done".
Australia's political landscape and looming election mean Turnbull's likely to become Communications Minister by year's end and his statements on Quigley mean an inglorious exit was the CEO's likely fate.
Quigley dismissed many criticisms of the project, saying missed rollout targets can be attributed in part to changes to scope of the NBN. He also defended contractors' performance, saying suppliers always learn on the job and can't be expected to get everything right first time.
"For anyone who has read any history of projects of this magnitude at this scale, it's not going badly," he said.
Quigley will stay at his post until a replacement is found. No timeframe for that appointment has been announced.®