Daddy-o, you're all wet... baffled by your own kids on the web - survey
LOLing yoof give up their ASL and MIRL thinking YOLO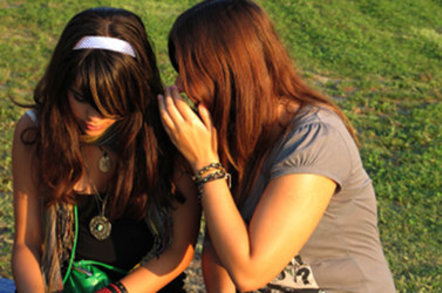 Parents can't figure out what their kids are up to online because they're clueless about internet lingo, a new survey has found.
The oldies are at a loss when children start chatting on about fraping or torrents and find textspeak acronyms like YOLO, LMIRL* and POS utterly impenetrable.
(If Reg readers want to check how down with da yoof they are, they can have a go at the painfully youth-cultured quiz here before reading on).
Web body Know The Net surveyed a thousand parents and found that only eight per cent could correctly identify that LMIRL means "let's meet in real life", which could mean they're unaware that their children are planning to meet up with someone they met online.
"Though many netspeak terms are harmless and just a bit of fun, some have more serious implications that parents need to be aware of," Know The Net said in a statement.
"The digital divide between parents and their children highlighted by the survey raises concerns that many parents are ill-equipped to recognise and deal with signs that their children may be in danger online, with issues such as cyberbullying, reputation damage and online grooming."
Although two-thirds of the parents knew what trolling was, only 28 per cent knew that POS means "parents over shoulder"* and just 23 per cent were aware that YOLO means "you only live once". Many of the 'rents were also unaware what torrenting means, so while a third of teenagers and one in 10 kids aged 10 to 12 admitted to it, just 42 per cent of Mums and Dads know what the term means.
"Parents need to keep up with fast-moving developments in internet lingo, as doing so puts them in a stronger position to understand and recognise the dangers their children face on the internet and to talk effectively with their children about these risks," Know The Net advised. ®
Bootnote
Vulture Central's backroom gremlins recall a yoof-led attempt to introduce a similar "relatives looking over my shoulder, change the topic" thing under the name of Code 9. The Urban Dictionary's definition (NSFW, naughty words) sums it up pretty well.