Apple creeps up on Android in US smartphone sales
BlackBerry takes it in the teeth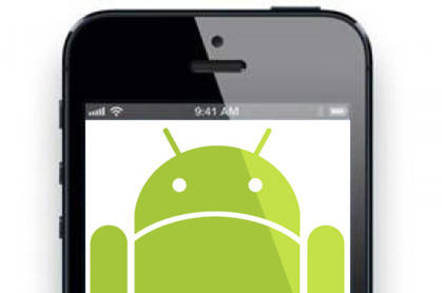 Although sales of Android-based smartphones remain essentially flat in the US, sales of Apple iPhone are on the rise, thanks in part to T-Mobile beginning to offer Apple's smartphone this April.
"The highly anticipated release of the iPhone on T-Mobile has benefited iOS in the latest 3 month period, though it has not yet impacted T-Mobile's share in the market," said Kantar Worldpanel ComTech global consumer insight director Dominic Sunnebo in a statement accompanying the release of their latest sales market-share figures on Monday.
Kantar's sales figures compare the three-month periods ending in May 2012 and May 2013, and are compiled from interviews of over 240,000 consumers in the US per year.
According to Kantar, their analysts report sales figures rather than overall market-share figures because "Sales shares exemplify more forward focused trends and should represent the market share for these brands in future."
If so, Apple should take heart from Kantar's data, seeing as how iPhone-sales market share rose 3.5 per cent year-on-year to 41.9 per cent, while Android-based phones rose a mere 0.1 per cent, to 52 per cent.
Windows Phone devices also saw a year-on-year improvement, rising 0.9 per cent to reach 4.6 per cent, but the news was decidedly less positive for BlackBerry, which saw a 3.9 per cent decline down to a miserable 0.7 per cent sales market share for the three months ending in May of this year.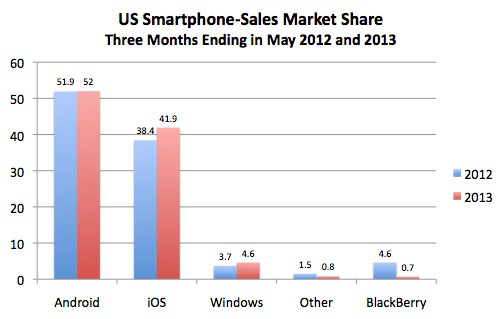 Android and iOS vastly overpower their competitors (data: Kantar Worldpanel ComTech)
Interestingly, Sunnebo also notes that "of T-Mobile customers planning to change device within the coming year, 28 per cent plan to upgrade to an iPhone for their next device."
That said, T-Mobile's star continues to fade in the smartphone marketplace. In the year-ago three months ending in May, that company's share of smarphone sales was 13.5 per cent, while during the same period this year it had shrunk to 10.1 per cent, well behind market leader Verizon's 34.6 per cent and second place AT&T's 29.0 per cent.
It seems that in the US, smartphone sales by operating system and carrier subscriptions are both still two-horse races. ®