US workforce expands as more job seekers seek jobs
Overall unemployment stuck, but IT cutting more paychecks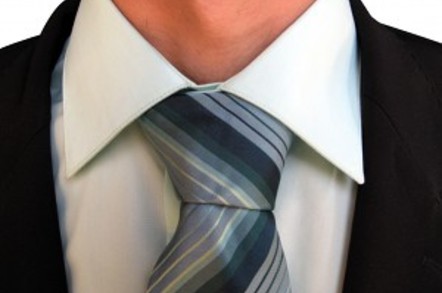 The US is still buzzed with its July 4th hangover, but the Bureau of Labor Statistics is open for business, delivering some good news: over the past three months, despite government job cuts, private-sector employers added enough jobs to keep pace with population growth.
According to the June jobs report, the US economy added 195,000 net new workers in June, which most economist say is around the level needed to keep pace with population growth. An average across economists polled by various business papers had expected on the order of 160,000 net new workers to be added in June.
Some economists say you need around 250,000 jobs per month to keep up with the young entering the labor force and older workers holding onto their jobs because, let's face it, for many of those old folks, retirement is not really an option.
The other good news is that job creation figures for April and June were revised upwards. The BLS originally thought the economy added 149,000 jobs in April, but now reckons 199,000 net new jobs were created three months ago, and the figures for May were boosted by 20,000 to 195,000 jobs. If you look at the average for the past six months, the US economy has added over 201,000 net new public and private sector jobs per month – that's outside of farm workers, who are tracked separately given the seasonal nature of their work.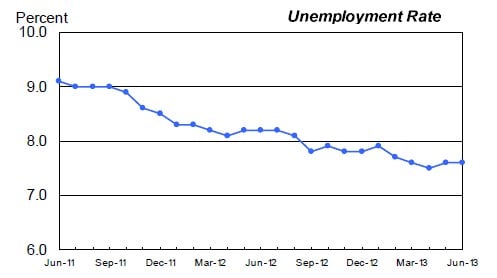 The unemployment rate held steady in June in the United States
The BLS surveys US households to get a sense of who has work, is looking for work, and who has stopped looking for work to reckon what the official unemployment rate is. If you are not looking for work, you are by definition not part of the labor pool and therefore not unemployed – you are some sort of non-person, economically speaking. The number of officially unemployed people stood at 11.8 million in the household survey, and the unemployment rate was flat at 7.6 percent.
Federal Reserve chairman Ben Bernacke has said that once the official unemployment rate drops to 7 per cent he will consider tightening up on the gushers of liquidity that he has been pumping into the US economy with quantitative easing, and that if it hits 6.5 per cent, he might raise interest rates.
Then again, he may leave his post before that happens. A one-point drop in the unemployment rate could take many years unless the US economy is goosed in a way that makes companies confident to add many hundreds of thousands of jobs per month to not only keep pace with population growth, but to eat into the pool of potential workers who cannot find jobs.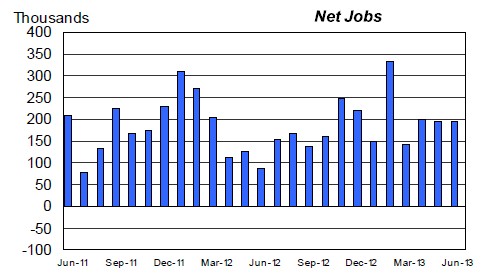 The US has been clicking along, creating an average of over 200,000 jobs per month this year
The professional services sector added 53,000 workers in June, with management and technical consulting and computer design and related services seeing the big gains. Retailers added 37,000 workers and wholesalers added 11,000. Healthcare companies added 20,000 last month, and financial services firms, which had been slashing workers in the past year, added 17,000.
There is no job count for the IT industry, but you can extract a proxy of sorts from the raw data put together by the BLS each month, which El Reg has been doing after the Great Recession got rolling nearly six years ago.
If you drill down into the manufacturing sector in the raw data for the BLS report, you will see that computer and electronic product makers added 7,200 workers in June, to a pool of 1.09 million workers. Within this sub-segment, computer and peripheral equipment makers had 163,500 people on the payroll, up 2,400. Communications equipment makers held steady at 107,100 employees last month. Semiconductor and electronic component makers employed 381,400 people as June came to a close, up 300 workers from May.
In the very broad information sector tracked by the BLS, telecom companies had 857,800 workers last month, up 3,300 since May. Those engaged in the data processing and hosting rackets employed 253,500 people, up a mere 200 in the past month.
In the services sector, computer systems design companies employed just under 1.69 million people, and added 6,000 workers last month. Management and technical services firms, which often have an IT component to the work they do, had 1.19 million people getting paychecks in June, up 12,700 people from May. ®