ULTRASONIC BOLLOCK BLASTERS help Hawkmoth battle The Bat
Noisy genitals scramble chiropteran sonar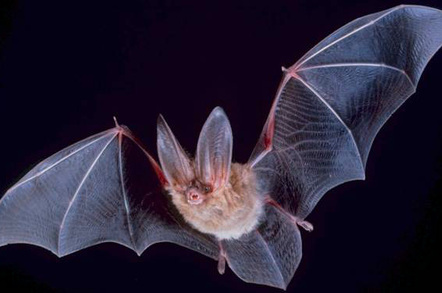 In a development whose scientific importance would be difficult to exaggerate, it has been discovered that hawk moths emit powerful ultrasonic pulse beams from their genitals in order to intefere with the sonar senses of predatory bats hunting them.
As any fule kno, bats emit high-frequency sound pulses when hunting in darkness and listen for echoes bouncing back off obstacles, prey etc - an ability often dubbed "echolocation".
"Echolocation research has been focused on porpoises, whales and dolphins," says Akito Kawahara, assistant curator of Lepidoptera at the Florida Museum of Natural History. "We know some insects produce the sounds, but this discovery in an unrelated animal making ultrasound, potentially to jam the echolocation of bats, is exciting."
Like an electronic-warfare aircraft seeking to jam a hostile radar scanner, it seems that the crafty moths belt out pulses of energy on the same frequency employed by hunting bats and so scramble the chiropterans' readouts. Kawahara and his fellow researcher Jesse Barber explain the deadly aerial battle that plays out every night in such places as the jungles of Borneo and the lower Amazon:
Bats and moths have been engaged in aerial warfare for nearly 65 million years. This arms race has produced a suite of counter-adaptations in moths, including bat-detecting ears. One set of defensive strategies involves the active production of sound ... moths' ultrasonic replies to bat attack have been shown to startle bats, warn the predators of bad taste and jam their biosonar.
It seems that the fluttering insects produce their ultrasonic-warfare pulses from biological transducers located in their gonads. We are told:
Previous research shows tiger moths use ultrasound as a defense mechanism. While they produce the sound using tymbals, a vibrating membrane located on the thorax, hawkmoths use a system located in the genitals.
Specifically, as one really might have expected:
Males do so by grating modified scraper scales on the outer surface of the genital valves against the inner margin of the last abdominal tergum.
Female moths are also thought to engage in jamming and spoofing of batty sonar, but the scientists aren't sure how as their private regions are arranged rather differently.
"We think hawkmoths are a primary food source for bats ... which is why they have evolved anti-bat ultrasound strategies," Kawahara says. "Hawkmoths have evolved different ways of avoiding bats — I can't even explain how amazing the system is, it is just fascinating."
Full details of the bat-bamboozling bollock-blaster boffinry are published in the journal Biology Letters, here. ®