3-2-1... BOOM: Russian rocket launches, explodes into TOXIC FIREBALL
Three satellites worth $200m smashed to smithereens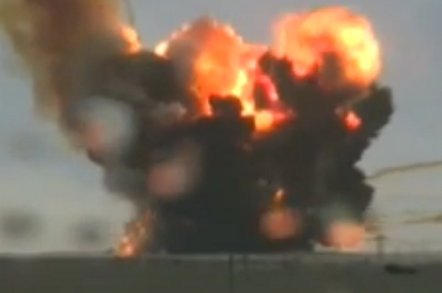 Video An unmanned Russian rocket carrying three Glonass satellites veered wildly off-course shortly after takeoff and crash-landed in a fiery explosion.
According to state news agency Ria Novosti, there have been no reported casualties, but officials have warned that a cloud of poisonous smoke from the Proton-M rocket's fuel could spread across the local area in Baikonur, Kazakhstan.
"There was an accident during the Proton-M launch. The rocket fell and exploded on the territory of the launch site," a spokesman for Russia's Federal Space Agency, Roscosmos, said.
The blast-off was broadcast live by Rossiya-24 television, with footage showing the rocket wobbling almost immediately after liftoff, then starting to come apart in the air before catching fire and hitting the ground in a fireball of flame and black smoke.
The head of Kazakhstan's Emergencies Ministry, Valdimir Bozhko, said rain was helping to keep the smoke from the burning of 600 tonnes of highly toxic heptyl, amyl and kerosene rocket fuels onboard, but it could still drift. The nearest town is around 60km away.
The accident marks the second unsuccessful launch of a Proton-M rocket with Glonass positioning satellites in the payload in the last three years. TV channel Rossiya-24 said the loss from the sats was around $200m.
The other mission failed in December 2010, when the rocket's upper-stage Briz engine failed. The partial failure of the same booster in a launch in August 2012 caused a payload to be stuck in the wrong orbit.
It is unclear what caused the difficulties in the latest launch, although the Emergencies Ministry said a near-instantaneous failure of the rocket's first stage engine was to blame. ®
Sponsored: Detecting cyber attacks as a small to medium business