British computing pioneer James Martin found dead in Bermuda sea
The man who wrote the book(s) on modern computing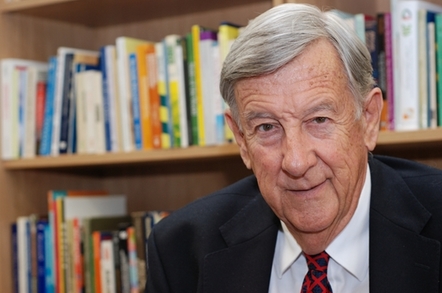 Obit James Martin, whose 1977 Pulitzer-nominated book The Wired Society predicted much of the modern internet, and who was helped more than most to explain and instruct in modern computing, has been found dead in the sea off his private island in Bermuda.
"The Bermuda Police Service can now confirm the death of 79 year old Dr. James Martin. Dr. Martin's lifeless body was found floating in the waters of the Great Sound near Agar's Island around 5:30pm Monday, June 24th by a kayaker," local law enforcement told Bernews. Foul play is not suspected.
Martin wrote over 100 books on computing and IT, starting in 1961, two years after he joined IBM. He continued to publish an average of more than a book a year until his death. These became the standard texts for teaching programming, systems design, database management, and computer troubleshooting, and provided a tidy income to supplement his wages from IBM
In 1981 he went into business for himself as a consultant, and rode the well-paid wave of consultancy for nearly thirty years. He also advised the British and American governments on computer issues, becoming the first Briton to be appointed to the US Department of Defense software scientific advisory board, and he lectured on software and systems design for over quarter of a century.
It was an unusual career path for someone born in the sleepy Midlands town of Ashby-de-la-Zouch. He earned a scholarship at Oxford to study physics, which brought him into his first contact with computers and set the course for his career.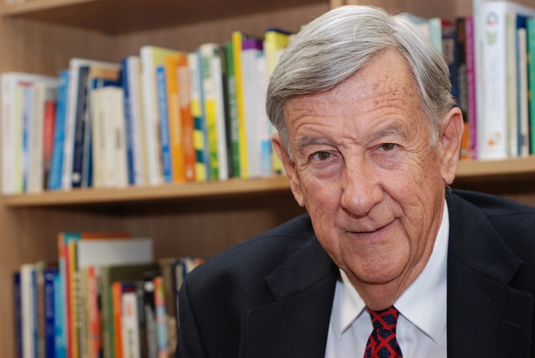 Farewell to the the tech industry's foremost man of letters
He later repaid the university by becoming its largest single benefactor – donating $150m to set up the The James Martin 21st Century School at his alma mater, and setting up the Oxford Martin School after September 11, 2001, to study global economics and conflict.
"The Oxford Martin School embodies Jim's concern for humanity, his creativity, his curiosity, and his optimism. Jim provided not only the founding vision, but was intimately involved with the School and our many programmes. We have lost a towering intellect, guiding visionary and a wonderful close friend," said the current director of the school, Professor Ian Goldin.
The future was a constant concern of Martin, and it took up much of his writing and lecturing time in later years. His 2006 book The Meaning of the 21st Century was turned into a film narrated by Michael Douglas, and El Reg recommends it as well worth both a read and a watch.
In his later years, Martin retired to Bermuda, buying a small island and spending his time sailing, gardening, and giving the occasional lecture to locals when not penning his latest tome. He was profoundly concerned by the effects of climate change and resource scarcity, and believed the current generation has the power to make or break humanity.
"This century could lead to a far greater future than we can even imagine is possible today," he said. "As we look at the span of the centuries, both past and future, the 21st century is absolutely critical – it has a very special meaning."
He is survived by his third wife, Lilian, and by a daughter of his first marriage. ®