Dancing Sepp Blatter on 'World Cup site' creates security flap
Footy kingpin spotted throwing electronically doctored shapes
The appearance of an animated Sepp Blatter dancing on what appeared to be a World Cup website caused confusion in anti-virus circles on Tuesday.
Tweets such as "Brazil 2014 website hacked to show a dancing Sepp Blatter on the home page http://www.fifa-brazil-2014.com" were forwarded to El Reg's security desk, sports subsection early on Tuesday.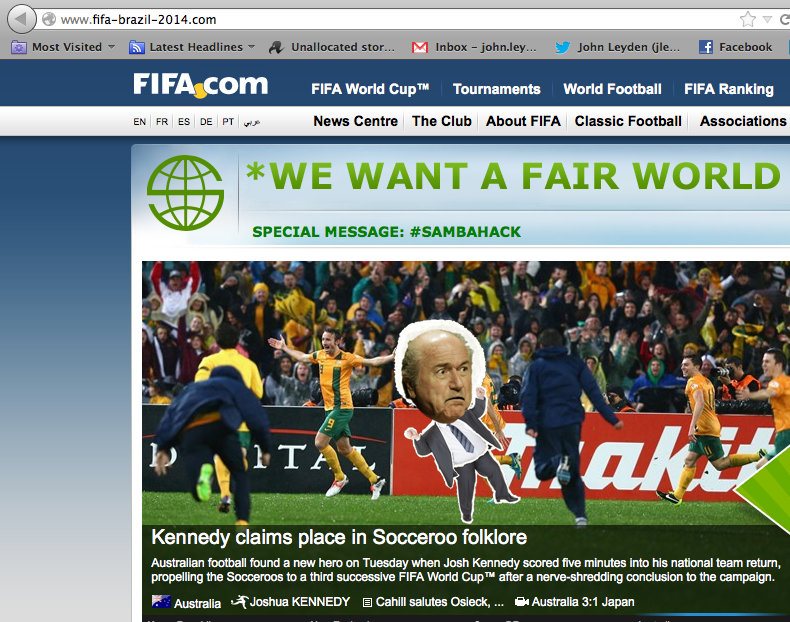 The dancing Blatter "trick" is the one commonly used by phishing/clickjacking and could be perhaps seen as a skewed tribute to the Fifa president.
"Looking at the source code I wouldn't be surprised if it flagged some heuristics-based scanners," Martijn Grooten, anti-spam test director at Virus Bulletin, told El Reg.
Independent security researcher Darrel Rendell noted concerns about the WHOIS and hosting provider of the dancing Sepp site.
However Rik Ferguson, VP of security research at Trend Micro, was able to rule out foul play. "It's not a hack but a clever viral marketing campaign using a typo-squatted domain," Ferguson explained.
The official site is: http://www.fifa.com/worldcup/index.html and the campaign site is: http://www.fifa-brazil-2014.com (beware: there's a cheesy soundtrack and Blatter boogies to the sound of kettle drums).
"It was done through a private domain registration through DomainsbyProxy, though it's pretty clear who registered it," Ferguson added.
The launch of the viral marketing campaign coincides with street protests across Brazil against the amount of funds poured into building World Cup facilities, while basic public services remain rudimentary. The dancing Blatter merchants appears to be linked to people running an online campaign for a "fair" World Cup in Brazil next year. ®