Sci-fi and horror scribe Richard Matheson: He is Legend
'These stories hold all their original hypnotic appeal'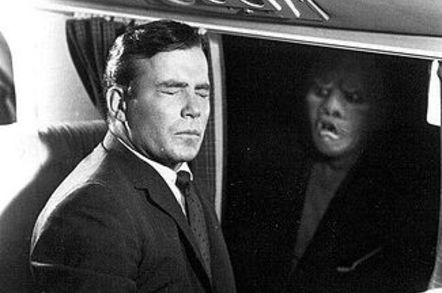 Obituary Acclaimed science fiction and horror writer Richard Matheson, who will perhaps be best remembered for his novel I Am Legend, has died at the age of 87.
Matheson was also the man behind some of the classic Twilight Zone television episodes, including 1963's Nightmare at 20,000 Feet starring a fresh-faced William Shatner.
Tributes for the author flooded in immediately after his daughter announced on Facebook that the scribe had died.
TV actor Mark Gatiss, who has penned a number of Doctor Who episodes in recent years, said on Twitter: "RIP the great Richard Matheson. He is Legend."
While Shaun of the Dead director Edgar Wright said: "If it's true that the great Richard Matheson has passed away, 140 characters can't begin [to] cover what he has given the sci fi & horror genre."
Matheson was set to be given the Academy of Science Fiction, Fantasy and Horror Films' visionary Saturn Award on Wednesday in Los Angeles. That honour will now become a posthumous award.
The academy described the writer behind classics that included The Incredible Shrinking Man and Duel, which gave Steven Spielberg his break into Hollywood, as a "singular voice in fiction, whose prolific written work is as unforgettable as the television and filmed entertainment it has inspired for more than half a century."
Many credit Matheson as "the father of the zombie apocalypse", whose vision was said to have hugely influenced George Romero's Night of the Living Dead - a movie whose characters famously never once muttered the word "zombie".
Horror author Stephen King - who dedicated his apocalyptic 2006 novel Cell to the iconic writer - once said that, without Matheson, "I wouldn't be around."
"He is as much my father as Bessie Smith was Elvis Presley's mother. He came when he was needed, and these stories hold all their original hypnotic appeal."
Matheson, who was born in Allendale, New Jersey in 1926, is survived by his wife Ruth and four children. ®
Sponsored: Webcast: Build the next generation of your business in the public cloud