O3b's satellites on launch pad, ready to bring cats+porn to billions
Google-backed birds brace for launch
This evening the first four satellites of the O3b satellite constellation are slated to launch from French Guiana, to provide connectivity to the three billion humans lacking a Google+ account.
The four satellites are atop a Soyuz rocket, ready for launch at 19.53 UK time, and are headed for a Medium Earth Orbit (MEO) in order to provide satellite connectivity without the latency of GEO birds. From September they will be joined by another four, with a view to commercial services launching in November.
Not that many of us will be able to benefit from O3b as the satellites are in an equatorial orbit and only have a 45-degree reach, but as the majority of the Other 3 Billion (O3b, geddit?) live near the equator, that's not a problem.
O3b won't be selling direct; the idea is to provide backhaul to local mobile networks and ISPs who don't live near enough to the coasts, where fibre might be an option.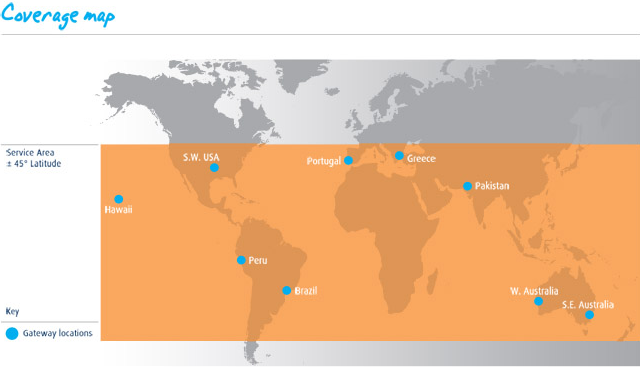 Satellite broadband is getting more useful these days. Spot beams mean that downlinks aren't spread right across the footprint and allow the same frequency to serve multiple receivers, but O3b also addresses the latency problem which usually afflicts satellite systems.
Those systems use Geostationary Earth Orbit (GEO) which allows a satellite to hover above one spot on the earth, allowing a directional dish to communicate very efficiently. Unfortunately GEO only exists at an altitude of 35,786km, which introduces a latency of around half a second. That gets multiplied up in the packet/acknowledge architecture of TCP, not to mention the query/response required by most internet protocols, resulting in lacklustre performance.
O3b addresses this by using an MEO orbit - only 8,062km from sea level - cutting latency down to a shade over 100ms. The project argues that this will result in a better experience and better engagement, though it's not without cost.
Geostationary satellites can cover huge areas and need only point in one direction, while O3b needs at least five (and will be using eight) - and they'll have to constantly redirect their spot beams as they arc across the sky.
The plan was announced back in 2008, and is being funded by Liberty Global, North Bridge Venture and the secretive Allen & Company, as well as Google and various others. That's important, as 3Ob isn't another attempt by Google to slurp user data, or something driven by first world guilt: it's a project intended to make money from developing markets, while helping them to develop.
It will be likely be a decade before we know if the $1.3bn investment the partners have already spent pays off. O3b isn't publishing its financial data or predictions, but this evening we'll know if the first four satellites made it into space, which will be a fine start. ®
Sponsored: Your Guide to Becoming Truly Data-Driven with Unrivalled Data Analytics Performance