Vodafone trials femtocell 3G coverage in Shetlands village
Blighty's most northerly not-spot no longer not
The Shetland village of Walls, population 300, now has 3G service courtesy of Vodafone – but the tech deployed, and the way in which it was done, bodes well for the future.
Walls was chosen as a test bed for Vodafone's "open femtocell" project; taking femtocell technology and scaling it up very slightly to suit a small town, village or other "not-spot". 170 places applied to be part of the trial, which was announced 18 months ago.
The village of Walls was the first to get mobile connectivity where previously there was none. The next step is community-driven DIY roll-out, so Vodafone customers will never see another not-spot.
Femtocells are boxes which work as very small base stations. Once switched on they scan for available frequencies (licensed by their operator), and reach out over the public internet to backhaul voice and data sessions. All UK mobile operators offer domestic femtos to customers who want better coverage at home, though most are reluctant to do so and only Vodafone sells such a product (under the Sure Signal brand).
But this project takes that idea up a notch to provide connectivity to a whole community.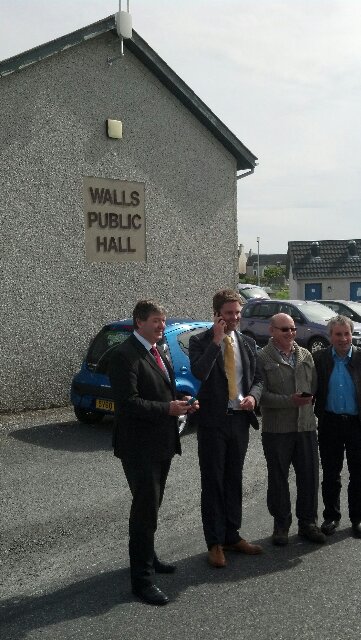 The local MP, Vodafone's man in Scotland and a couple of locals casually using the femtocell
The 3G cells used in Walls are a little larger than a traditional femtocell, but most of that is weatherproofing as they're mounted outside for maximum range. There are four of them in Walls, creating patches of signal which cover about a third of the homes in the village.
Each box can carry eight simultaneous voice calls, as well as keeping phones on standby or delivering data. Cells are aware of the macro infrastructure, so calls can be passed off to the greater network when one leaves the village – if the greater network existed here, which it doesn't, so the point is rather moot.
4G would be pointless, according to Vodafone, as Wi-Fi fulfills that need. 4G networks don't carry voice calls; existing deployments switch to 3G when required (or sometimes don't, according to some EE customers). A 4G femtocell would have to support 3G too, making 4G redundent when what's wanted is greater coverage for voice calling.
The point is that these cells don't need planning permission. They just bolt to a wall, and they don't need special power supplies. They cost around £20 a year in normal mains 'leccy, and they don't have to be installed by expensive engineers; just switch 'em on and go.
So, in theory, an Open Femto cell can be deployed by any community which wants to extend its connectivity and is bored of lobbying operators for more masts.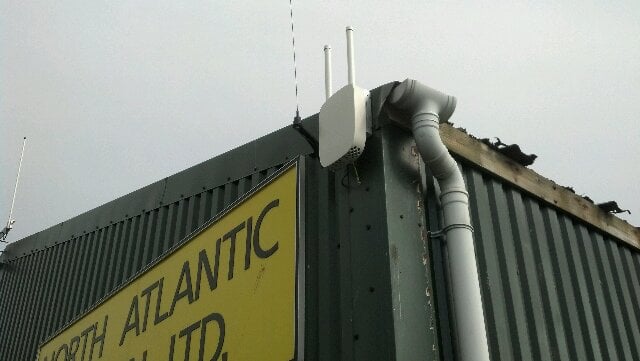 Another cell, this time at a mussel farm, providing connectivity out to the boats and across the shore
Not quite any community can use these, however – only those with decent enough internet speeds to carry the traffic back to Vodafone central, not to mention also needing a community cohesive enough to work together on the project. Vodafone's plan is to "industralise the process" into some form of package which can be delivered to communities for them to fit, with Vodafone engineers turning up at the last moment to plug in and switch on.
The details of that process will take a year to sort out, and the deployment in Walls will be monitored to see how effective it is, how much traffic it carries and (critically) how many people use it – and thus when Vodafone can expect a return on the cost of the kit.
Even then backhaul will remain an issue for many areas, especially as mobile not-spots tend to be the same ones lacking internet infrastructure. (but not so on Shetland, where oil money provides one heated pool per three thousand people and 20Mb/sec broadband is normal. Infrastructure is not a problem!).
Vodafone complains that access to BT's ducts and cables is denied to mobile operators (only companies selling fixed connectivity need apply) and hopes its ownership of Cable & Wireless will help extend operations, though that won't be far enough for many communities.
The people of Walls are, obviously, delighted, able to make and receive calls (just as long as eight people nearby aren't also on the phone) and if Vodafone can package it well, the idea should spread quickly to other villages and hamlets around the UK. Not to mention the other network operators as well, who'll be quick to ape any successful roll-out. ®
Sponsored: Minds Mastering Machines - Call for papers now open