Wireless traffic-info networks could save BEEELIONS per year
And that's in Germany alone, say München autoboffins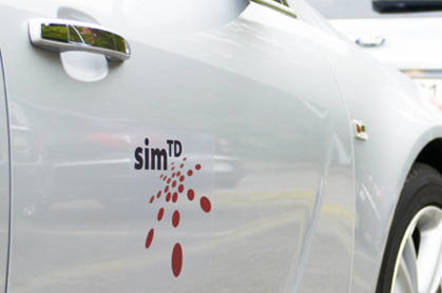 A newly released study contends that adding wireless communication between cars and traffic-sensing infrastructure could add up to an annual savings of €11.4bn ($15bn) in accident prevention, fuel, and pollution costs – and that's in Germany alone.
"The benefits of networking are great, particularly in situations where hidden dangers lurk," says professor Fritz Busch, chair of the Transfortation Technology department at the Technischen Universität München (TUM), which conducted the research.
The study tested "car-to-x communication" simTD (Sichere Intelligente Mobilität – Testfeld Deutschland, or Safe Intelligent Mobility – Test Field Germany) technology developed by TUM, automakers, and others, and sponsored by government and industry. The automotive-information system uses a wireless network that links together cars, motorcycles, and roadside sensors.
TUM loaded up 120 vehicles with simTD tech, which 500 test drivers then used to travel 1.6 million kilometers (932,000 miles) on highways, country roads, and city streets in and around Frankfurt for six months. The simTD vehicles received data from one another and from a network of roadside stations that provided them with traffic, road condition, and weather info.
In addition, data from the vehicles and sensors was anonymized and collected in a central location, where it was used to forcast and manage route planning.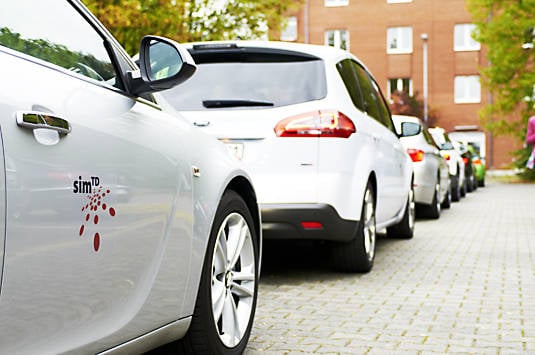 A few of the vehicles in the simTD test, lined up and waiting for their drivers
"Drivers with simTD technology equipped vehicles are in a significantly better position for anticipatory driving," TUM says, based on information presented to them on an in-car display that uses traffic and weather info to recommend routes, as well as suggestions for the optimum speed to drive to take advantage of timed green lights along a stretch of road.
Accident-prevention is another simTD benefit – so much so that TUM estimates that over half of all intersection-related accidents can be reduced when drivers are warned well in advance that another driver is approaching the same intersection.
Another example of simTD's accident-prevention help, TUM explains, is that a driver can be notified of another car's braking even when their view of that car is obstructed by other vehicles, thus allowing the drver of the simTD-equipped vehicle to brake early and avoid a pile-up.
"The field test clearly shows that the system provides for enhanced safety, efficiency and comfort in road traffic," says Busch. "Drivers have used the information to adapt their speed and driving behavior earlier to a particular traffic situation."
TUM also claims that not all cars need to be simTD-equipped for its benefits to be felt. If a simTD car slows down or changes lanes because its driver has been informed of an impending hazard, for example, vehicles around it should get the hint, as well.
If all vehicles were equipped with the technology and sufficient roadside stations were set up to provide traffic data, the simTD project partners estimate, based on their test results, that in Germany €6.5bn could be saved annually in accident prevention alone, and another €4.9bn saved "through shorter travel times and lower environmental pollution."
The simTD system is not just a pie-in-the-sky pipe dream, if you don't mind a bit of a mixed metaphor. "The car-to-x technology is now ready for market," says Christian Weiß, who coordinated the TUM project.
The first operational simTD system is planned to go into operation in 2015 in a traffic corridor between Rotterdam and Vienna, via Frankfurt. ®