Wake up, Uncle Fester! Huawei's nattering about BUYING Nokia
Yes, we mean you, Ballmer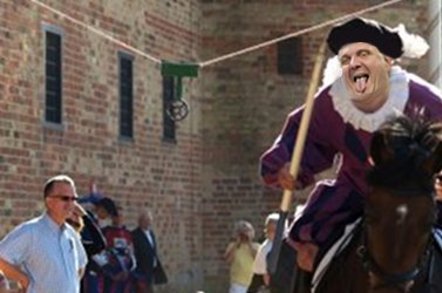 Analysis Chinese dragon Huawei says it has "no plans" to buy Nokia, Europe's biggest technology company – but it didn't challenge reports that triggered the story.
The FT found Huawei's consumer electronics chief Richard Yu musing on a takeover of Nokia. If alarm bells aren't ringing in Redmond, they should be.
Yu may think that – but Microsoft couldn't possibly comment. The prospect of the top Windows Phone mobile maker sidelining Windows Phone would be a massive blow.
On Windows Phone 7's launch day in late 2010, Microsoft chief exec Steve Ballmer previewed nine handsets from four makers - HTC, Samsung, LG, and Dell. Since then, Acer, Alcatel, Fujitsu, Nokia and Samsung have all released phones with Windows Phone inside. (Sony Ericsson and Asus models never made it to market.)
This year, following the launch of Windows Phone 8, it's all Nokia. You can argue, wisely, that quality trumps quantity: Nokia has bet the company on Windows Phone and is putting its very best work into its Lumia range, rather than treating it as a sideline, or afterthought. But that's all the more reason for Nokia to place some of its eggs in a few other baskets.
"We are considering these sorts of acquisitions," said Yu, "maybe the combination has some synergies but depends on the willingness of Nokia. We are open-minded," he added, saying that Nokia's reliance on Windows Phone might be a possible obstacle. Unlike Android, he said, the Windows Phone mobile operating system requires a licence fee.
Huawei wouldn't be buying Nokia for its Lumias, but rather for its brand and distribution, and to a lesser extent, its intellectual property. The Chinese company is a newcomer to smartphones; a year ago, it didn't even have a brand for its smartphone range.
Your correspondent was impressed by the makeover it has given Android, although the hardware for both its Android devices and sole Windows Phone –based devices was fairly generic. But it has plenty of cash to throw at the problem, bagging $35.4bn in revenue worldwide last year, with $2.4bn in profit. It claims that 66 per cent of the sales came from outside China.
Nokia, on the other hand, ended Q1 with €10.1bn in gross cash, and has a market cap of $12bn today. Don't underestimate the miracle that's the Chinese credit system, however. Huawei is able to mount a hostile bid and if Huawei really wanted these assets, Microsoft would be obliged to step in.
What Would Ballmer Do?
Two options then present themselves. As a "white squire", Microsoft would dig deep and take a significant interest in Nokia to repel a hostile bid. The mere expression of interest may be enough. Alternatively, Microsoft could go further and ride in as a "white knight", taking a majority controlling interest in Nokia. This is exactly what Google did with Motorola and Android licensing has not been hampered. Undoubtedly the squire option would appeal be the more appealing of the two...
After all, Microsoft already has plenty on its plate salvaging the company from the Sinfosky Experiment, and nothing in 2013 suggests it regards Windows Phone as its most important asset. If anything, expectations have been scaled back.
We won't see Windows Phone 9 this year, and an 8.1 incremental update might not show up until early next year – and it won't be the unified codebase with RT and Win8 Modern on the desktop. In the competitive inferno of the smartphone world, that's not good enough.
WinRT has been a huge distraction, and there's no real demand for RT devices. They offer punters nothing they can't find elsewhere. Windows Phone, on the other hand, is becoming a very attractive proposition at the bargain basement end of the market today where it competes with Landfill Android™.
Really compelling devices like the Lumia 925 and perhaps the "Real PureView" 1000 can take it beyond the Winfanboi niche. So far, buying a high-end Windows Phone has been something of an esoteric choice, almost a kind of identity statement. But the 925 and 1000 appeal to people who want a great phone.
I have a hunch that the biggest obstacle to owning a WinPhone, the "app gap" will eventually be narrowed when the three incompatible codebases merge, and an app can be written to run on any Windows device. But there's no roadmap, or prospect of that happening soon. ®
Bootnote
Nokia is launching a camera phone in New York early next month. Lumia 1000, I'm guessing.