Facebook killing off Sponsored Results in search pages
Plans radical slim-down of ad options
Facebook has confirmed that it will drop the sale of Sponsored Results in its search pages, a "feature" that plenty of El Reg readers have been less than happy about.
"In keeping with the goal of streamlining our ad products, starting in July advertisers will no longer be able to buy sponsored results," the company told El Reg in a statement.
"We've seen that most marketers were buying sponsored results to advertise their apps and games, and we already offer app install ads and Page post link ads on desktop to achieve these same goals."
The social networking company is still trying out ways to extract cash from users, which will go some way towards placating investors and help fill up the post-IPO hole in Facebook's share price. Earlier this month it said it would be cutting the number of ad units it has from 27 to less than half that in an effort to simplify matters.
Other advertising vehicles for the chop include the Questions product for Pages and the online Offer product. Other advertising choices, such as Page post photo ads, will be augmented by adding "social context" by the autumn, the company said.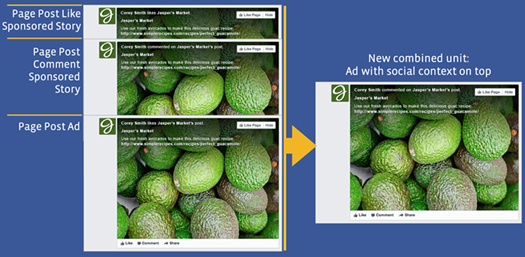 Three become one
The number of different advertising formats on offer is also going to be reduced to make it less expensive to prepare adverts that look good on the page from late June. More changes will be announced as they come online.
At the same time, Facebook would be expected to increase the number of ways its Graph Search could be monetized. At the launch of the feature in January, the company told El Reg that were no plans for adverts on Graph Search as yet, but didn't rule it out in the future. ®